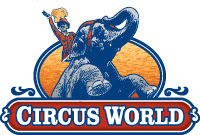 Join us Under the Big Top at Circus World every Thursday at 7:15am with an encore show Fridays at 6:45am. You'll hear the latest in Circus news from Scott O'Donnell, Dave SaLoutos, "Heavy" Burdick and other Circus World staff.
Learn about Circus World's Stupendous 2017 Big Top Shows. Stay up-to-date on the Colossal Baraboo Circus Homecoming and Gigantic Big Top Parade, both coming to Baraboo this July!
Presented by:

With the 2017 Summer Season opening tomorrow, Scott O'Donnell will fill us in on the final preparations currently taking place at Circus World! We will also have astonishing unicyclist Wesley Williams on the show to talk about his act as well as his journey to Baraboo!
–Episode #14 – 5-18-17