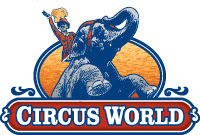 Join us Under the Big Top at Circus World every Thursday at 7:15am with an encore show Fridays at 6:45am. You'll hear the latest in Circus news from Scott O'Donnell, Dave SaLoutos, "Heavy" Burdick and other Circus World staff.
Learn about Circus World's Stupendous 2017 Big Top Shows. Stay up-to-date on the Colossal Baraboo Circus Homecoming and Gigantic Big Top Parade, both coming to Baraboo this July!
Presented by:

This week we are happy welcome our wonderful partners from the Baraboo National Bank! Merlin Zitzner, Corey Davis and Tara Zitzner all join to talk about the bank's remarkable 160 year anniversary and the unique history between the Baraboo National Bank and the Ringling Bros. Circus. Scott O'Donnell will also preview the Homecoming and 5th annual Big Top Parade just over a week away!
---
Listen back to the previous episodes of Under the Big Top at Circus World!
–Episode #21- 7-6-17