by Matz ~ April 23rd, 2014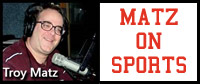 Baseball: The Baraboo Thunderbirds are scheduled to play a non-conference baseball game at Monona Grove today, looking to bounce back from a rough outing Tuesday. Baraboo was no-hit in an 11-1 loss to Sauk-Prairie and that was Sauk's first win of the season and it dropped Baraboo 1-3 in the conference and 4-5 overall. Baraboo is also slated to play in Tomah tomorrow.
Reedsburg and Sauk-Prairie are scheduled to get after it today in Sauk in Badger North baseball with Reedsburg 2-1 in the conference and Sauk at 1-3. Reedsburg though has lost three of four and they've been shut out in two straight games including a 6-0 loss to Fort Atkinson Tuesday. Sauk started the season 0-5 but got their first win Tuesday as Paul Zech threw a five-inning no-hitter in an 11-1 win over Baraboo with five walks and eight strike-outs. Austin Lins also had three hits for the Eagles. 2-1 Waunakee is scheduled at 3-0 Portage with Portage coming off an important 12-1 win over De Forest and 0-3 Mount Horeb is slated to play 3-1 De Forest.
Wisconsin Dells is scheduled at River Valley today on the baseball diamond with the Chiefs 4-2 for the season after downing Westfield 7-3 Tuesday with Ashton Mace striking out 16 in the win and belting a HR as well. River Valley lost 4-2 vs Platteville on Tuesday. Kickapoo at Weston is also on the schedule today in the Ridge and Valley.
Softball: Baraboo Thunderbird softball is in the midst of a four-game win streak with Monona Grove on the home schedule today at Pierce Park, weather permitting. Baraboo is now 5-3 overall after two wins Saturday in Sun Prairie and conference wins this week over Reedsburg 7-4 and Sauk-Prairie 8-4 with Baraboo collecting 11 hits in the Sauk win. Baraboo is also slated to host DC Everest in a twin bill Saturday.
Reedsburg is slated to host Sauk-Prairie today in Badger North softball at Nishan Park. Reesburg is 1-8 overall and still winless in league play and coming off a 10-0 loss Tuesday at Fort Atkinson and a loss at Baraboo Monday as well. Sauk-Prairie is 0-4 overall and in league play but they put forth a quality effort in an 8-4 loss at Baraboo Tuesday with a season high nine hits and stronger defense. The Portage girls are 1-2 in Badger North and are scheduled at 3-0 Waunakee today with 5-0 De Forest at 2-2 Mount Horeb with Katie Klein throwing a no-hitter for the Norskies vs Mount Horeb earlier this season. Weston is supposed to host Kickapoo today in the Ridge and Valley.
Track and Field: Reedsburg's annual Betsy De Merit Track Invitational is hopefully to take place today and tonight at Millenium Field. This once a year Invite honors Reedsburg girls sports pioneer Betsy De Merit who was instrumental in the development of girls sports in Reedsburg in the 1970′s. Schools such as Portage, Wisconsin Dells, Adams, Mauston,Richland Center and Royall are among the schools scheduled to compete at 4:30 PM. Brittany Schyvinck and Tommie Brenner lead a strong Reedsburg girls squad with Monica Jaled and Sam Conroy heavy hitters for the Dells girls. River Valley track is scheduled at the Platteville Relays today.
Girls Soccer: Badger North play is scheduled to begin tonight with a tough league opener for the Baraboo girls at home with Mount Horeb at 7 PM. The T-Birds look to snap a three-match losing streak after a 2-0 loss at Lodi Tuesday with Baraboo 1-3 overall on the season.
Sauk-Prairie at Reedsburg is on the docket tonight in Badger North with a 5 PM start time at 5 PM at RAHS. Reedsburg is 2-2 overall but they've lost two straight while the Sauk-Prairie girls are 2-1 overall with wins over Madison East and Monroe after a 4-0 loss to Monona Grove to open the season.This matchup features two of the top players in Badger North-Nyssa Goeres for Sauk-Prairie and Kate Fearing of Reedsburg. De Forest is at Waunake in the other Badger North pairing with Poynette-Portage at Belleville in the Capitol Conference.
Boys Golf: Baraboo will be one of many schools hopeful to compete today at the Lake Arrowhead Boys Golf Invite near Nekoosa as the Thunderbirds look to continue their strong start. Sauk-Prairie, at 0-3 in Badger North, plays at 0-1 De Forest today with Sauk coming off a loss to Baraboo with De Forest losing by three strokes in a conference dual vs Portage.
Boys Tennis: The Badger North season is scheduled to begin today with Baraboo at Reedsburg and Waunakee hosting Sauk-Prairie, both at 4:30 PM, weather permitting. Baraboo has won two of four non-conference duals with Reedsburg at 3-2 in five duals. Sauk-Prairie has won three of their four duals outside the conference.