by Matz ~ July 3rd, 2014. Filed under:
Matz on Sports
.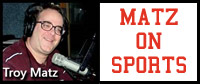 The Baraboo Riptide youth swim team has a rare Thursday dual tonight in the Tri-County Conference season at Wisconsin Dells in advance of the holiday weekend. Baraboo is 3-1 in four duals so far this summer and they've won two straight including a lopsided win over Mazomanie last week. 5:30 PM is the start time tonight at the Municipal Pool in Wisconsin Dells.
Two nights of racing will keep the fans at Dells Raceway Park entertained this weekend. The North American Cup Series returns to DRP Friday night with a 68-lap Super Late Model feature race plus day one action in the two-day Bandits Nationals and that is followed up on Saturday night with the Club Lamark Midwest Truck Series 40-lap race along with the 30-lap Bandits Nationals race. Hobby Stock and Sportsman division racing takes place Saturday night in addition to the always popular school bus races with  post-racing fireworks scheduled as well. Fan gates open at 4 PM with qualifying around 5 PM and racing is at 7 PM at DRP.
Friday and Sunday games are featured this weekend in Sunday League Northern Section Home Talent Baseball. Friday's schedule shows 9-2 Sauk-Prairie, the West division leaders, hosting 4-7 Waunakee with Reeedsburg, 3-7 and riding a two-game win streak, hosting 8-3 Black Earth at Nishan Park. Cazenovia takes a 5-6 record to play 8-2 Ashton Friday with 9-1 Middleton, the East division leaders, at 4-6 Richland Center with 3-7 Plain at 6-5 Cross Plains and 2-8 Lodi goes to 2-9 Mazomanie. The Sunday slate shows Sauk-Prairie at Black Earth, Reedsburg at Cross Plains, Lodi at Cazenovia, Plain at Middleton, Mazomanie at Waunakee and Richland Center at Ashton. In the Eastern Section in Sunday League Home Talent Baseball, 6-6 Portage hosts 2-10 Marshall on Friday with a home game Sunday vs 7-5 Monona. There is no Night League games this week for the area teams.
Area Legion baseball teams have the upcoming weekend off with the Baraboo Bandits down until a Tuesday DH with Janesville, the Baraboo Juniors play next on Monday vs Wisconsin Rapids with Reedsburg idle until a tournament in Madison Tuesday through Thursday next week.
It's also an off weekend for all of the Baraboo Thunder girls softball teams with the U-16 and U-14 teams returning to action on Monday.