by Matz ~ July 2nd, 2014. Filed under:
Matz on Sports
.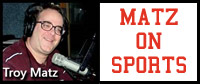 Reedsburg Senior outfielder Payton Sterkowitz was named to the all-area first team in high school baseball for the 2014 season by the Wisconsin State Journal. Sterkowitz led Badger North with a .506 batting average and 33 rbi's and was an all-state honorable selection as well by the WBCA. Portage Senior pitcher Jordan Walker is an all-area second team selection as well and honorable mention recognition goes to Steve Gavin and Jordan Bill of Reedsburg, Ashton Mace and Justin Hintze of Wisconsin Dells, Brock Allen of De Forest, AJ Johnson of Waunakee and James Oelke of Ithaca. Fred Manke of Lodi was Player Of The Year on the all-area team with Jefferson's Greg Fetherston Coach Of The Year.
Three Weston High School players, Senior Sawyer Schmitt, Junior Devan Boland and Sophomore Mark Klang are all-league first team selections in the Ridge and Valley Conference for the 2014 baseball season with Sophomore Trenton Boland and Senior Mason Mc Cauley named as honorable mention choices. La Farge won the league title led by Coach Of The Year Blake Herken while Ithaca's James Oelke is Player Of The Year. Ithaca qualified for their first State Baseball Tournamment in June as well.