by Matz ~ June 16th, 2014. Filed under:
Matz on Sports
.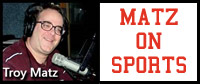 Badger North will have two teams competing in this weekend's WIAA State Girls Soccer Tournament in Milwaukee after winning Sectional titles on Saturday afternoon. Waunakee is 22-5 overall and they're state bound for the first time since 2008 after a come from behind 2-1 win over Oregon in a D-2 Sectional final in Waunakee. Maci Maultbetsch and Grace Lujan scored goals for Waunakee and the Badger North champions wil meet Rhinelander Friday at 2 PM in the D-2 semi-finals. Mount Horeb will be at State for the third year in a row after winning a D-3 Sectional final at home Saturday 3-0 against Monroe as the Vikings again represent Badger North at the State Tourney, this time with a 12-6 record. Mount Horeb will face Ashland at 7 PM in the D-3 State semi-finals Thursday night in the final match of the day. WIAA State Girls Soccer will again be played at the Uihlein Soccer Complex in Milwaukee Thursday, Friday and Saturday.
Oakfield, Arcadia, Mosinee and Kimberly won WIAA State softball titles Saturday at Goodman Diamond on the UW-Madison campus. Oakfield wins their fifth state crown and their second in three years with a victory 7-3 over Cochrane-Fountain-City in the D-4 final to finish 21-2 and it was Arcadia claiming their first state softball title with a 30-0 record with a win 1-0 over Laconia in the D-3 final. Arcadia won both games at State by 1-0 scores. Mosinee is a state softball champ for the first time with a D-2 title game win 2-0 over New London and ended up 28-2 overall and Kimberly captures the D-1 championship in a game for the ages Saturday night. Kimberly wins 6-5 over Westosha Central in a state tournament record 15 inning game that featured 33 base hits and took over four hours to complete. Kim Johnson homered for Kimberly in the top of the 15th and the Papermakers hang on to go 27-3 in a state title season. Westosha Central stranded 25 base runners in the loss.
Brookfield East and Milwaukee University School are the WIAA State Boys Tennis Team champions for 2014. Brookfield East downed Eau Claire Memorial 6-1 to win their first ever team state title in D-1 on Saturday with Milwaukee University School a 7-0 winner over Madison Edgewood in D-2, giving them a ninth state team title and a second straight championship.