by Matz ~ June 16th, 2014. Filed under:
Matz on Sports
.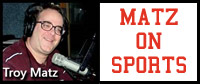 The Baraboo Bandits posted a 1-3 record in four games at the Prairie Du Chien Legion baseball tourney over the weekend. Baraboo won their first game of the weekend Saturday afternoon 10-1 over Genoa City-De Soto-Stoddard with winning pitcher Matt Meyer going the distance with a four-hitter with five walks and ten strike-outs. Baraboo's bats were sizzling with 16 base hits, four of them from Griffin Nicksic and two each for Trevor Hanson, Tom Ginther, Matt Meyer, Levi Baerwolf and Wyatt Zalewski.  Prairie Du Chien downed Baraboo 10-3 on Saturday night with the host team scoring in all six at-bats against losing pitcher Trevor Hanson and reliever Griffin Nicksic and Baraboo was guilty of eight errors in the game defensively. Nicksic and Zalewski had two hits each with Zalewski driving in two. On Sunday, the De Soto group came back to defeat the Bandits 10-9 with two in the last of the seventh after Baraboo had scored two in the top half to take the lead. The De Soto squad had 22 hits against Jarrett Benson, Levi Baerwolf and Griffin Nicksic on the mound while Nicksic, Matt Meyer and Sam Anstett had two hits each and Nicksic two rbi's in a 12-hit Bandits attack. The Bandits lost their final game last night 17-6 vs Prairie Du Chien but again had 12 hits in defeat. Tom Ginther was 3×3 while Nicksic, Meyer, Baerwolf and Jarrett Benson had two hits each. Ginther takes the loss on the mound with Anstett working in relief as well and five errors in this game hurt the Bandits as well. Baraboo is now 2-4 for the summer with Randolph coming in for a DH tonight at 5 PM at Mary Roundtree.
Baraboo was 0-4 in their Junior Legion baseball tourney at Mary Roundtree over the weekend.The Junior Bandits had a short-handed roster but still played competitively, losing to tourney champ Beloit 2-0, to Portage 12-2, to Reedsburg 6-4 and again to Portage 5-1. Beloit beat Reedsburg in the final last night. The Baraboo Juniors are 1-5 for the summer and are idle until they host Lake Geneva Saturday as part of Baraboo Baseball Day.
Sauk-Prairie wins 12-2 at Reedsburg yesterday in Northern Section Sunday League Home Talent Baseball with Matt Katzman and Paul Lenerz combining on a five-hitter. Sauk had eight hits and took advantage of seven walks and three errors from Reedsburg and Sam Koenig and Trent Sorg had two hits each for the 6-2 Twins with Reedsburg now 1-6. Clay Hinz was the losing pitcher and Matt Lennon and Payton Sterkowitz had two hits each in the loss. Sam Overlein pitched a six-hit shutout with eight strike-outs for the 4-4 Caz Reds in a 9-0 win over Mazomanie. Wyatt Ernstmeyer had three hits for the Reds with Mazo falling to 2-6. Plain nips Richland Center 10-7 for their first win as Richland Center falls to 3-5, Middleton takes over the East division lead at 7-1 with a 15-4 win over 2-5 Lodi, Black Earth falls to 6-2 with a 7-3 loss to 3-5 Waunakee and Ashton is now 6-1 after an 8-5 win over 5-3 Cross Plains.
Portage downed Sun Prairie 9-6 on Saturday but lost to Cottage Grove 5-4 in extra innings yesterday in the Eastern Section with Portage now 5-5 in the Sunday League.
The annual Baraboo Thunder Big Top Blowout youth softball tournament wrapped up yesterday with the Franklin Force winning the U-12 title, the Wisconsin Bandits from Horicon were the champs in the U-14 division and the Central Wisconsin Sharks from Stevens Point won the U-16 title. The Baraboo Thunder U1-2 and U-16 entries were winless on the weekend with the U-14′s defeating Sun Prairie in one of their five games with Elise Lewison collecting four hits and five rbi's in the 15-7 victory. 21 teams in all competed this weekend and over 40 teams are expected for the Baraboo Thunder Classic next month, July 11th through the 13th.
Sun Prairie defeats the Baraboo Riptide 446-216 in a Tri-County Conference dual Saturday in Sun Prairie in youth swim competition. George Letendre, Melissa Munneke in two events , Jackalynn Lemke, Dan O' Rourke, Issac Pelland, Mattie Letendre in two events, Dominic Du Bray, Ben Beal, Paige Goeckerman, Jacob Laux, Abby Hennessy in two events, Luke Vittengyl in two events, Natalie Gneiser in two events, Josh Hackbarth in two events and four relays won titles for the Riptide who will host Sauk-Prairie this Saturday.