by Matz ~ May 12th, 2014. Filed under:
Matz on Sports
.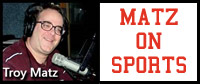 Girls Soccer: Baraboo now sits at 5-5 for the high school girls soccer season after an 8-2 loss to a strong Glenbrook South from Illinois Saturday at Beryl Newman Field. The visitors took advantage of their speed with a 7-0 first half advantage and cruised to the win although Baraboo did get second half goals from Cassie Siedschlag and Irelan Bennett. Baraboo plays a make-up at Richland Center tonight at 7 PM.
Sauk-Prairie follows up a 1-0 win over Watertown Friday with a 5-1 home-field win over Tomah on Saturday. Lindsay Sauer, Nyssa Goeres and Georgia Breunig all score first half goals with Sierra Suchla and Hannah Baker both finding the back of the net after halftime for the 7-4 Eagles with Goeres also posting three assists with Olivia Rauls with two and Laura Dunse had five saves in goal.
Boys Tennis: Sauk-Prairie places 5th among eight teams at Saturday's Stoughton Boys Tennis Invite with Walworth Big Foot the team champion. Cody Mack and Tyler Ballweg for Sauk did win the number one doubles title while TJ Pfaff and Brendan Ballweg placed second at two doubles for the Sauk-Prairie squad.
Portage posted a 4-3 dual match win over Mauston with a 5-2 loss to Black River Falls at Saturday's Portage Quad. Nathan Hazzard, Andrew Smalley and Jeffrey Seaman all win at two, three and four singles vs Mauston with the lone doubles win to Layne Morrin and Taylor Crocker at number one. Portage wins vs Black River Falls came from AJ Sierra at one singles and Christian Morrin and Daniel Staveness at two doubles.
Softball: Reedsburg  drops both games at their Softball Invite at Nishan Park Saturday. with the Beavers now 3-14 for the season. Tomah downed the Beavers 13-3 to kick off the day with Sadie Ernstmeyer giving up 12 hits in taking the loss in a complete game effort while allowing only five earned runs thanks to a season high ten errors from the Reedsburg defense. Haley Rockweiler, Kate Gesteland and Rachel Wuensch all had two hits each in an eight-hit attack. Reedsburg then lost a closer game 9-2 vs Edgewood in the second game with Reedsburg held to six hits. Edgewood had 14 hits vs Ernstmeyer and Sydney Meeker who allowed only one run in four innings in relief of Ernstmeyer.
Baseball: Sauk-Prairie battled their way to a 9-8 win over Tomah Saturday on the baseball diamond in extra innings. Sauk led 7-2 after six innings but Tomah scored five in the seventh to tie with the help of four walks in the inning. Tomah took an 8-7 lead in the eighth inning but the Eagles won it with two in the bottom half as Keith Kraemer tripled and scored on Ben Lenerz rbi single with Lenerz eventually scoring on a bases loaded walk to Grant Schlimgren to end the game. Sauk out-hit Tomah 12-6 with Paul Zech 4×5 with four rbi's and Connor Leister was 3×5 in the game as Sauk-Prairie improves to 3-9 overall. Bailey Breunig gets the win in relief and the Eagles take a 2-5 Badger North record to 0-6 Mount Horeb today for a conference make-up.
Portage lost to Tomah 6-4 as well in Saturday baseball as a seventh inning rally fell short for 10-5 Portage. Jack Nelson was the losing pitcher and Stian Anderson had three hits in the loss for the Warriors.
Boys Golf: Portage, Reedsburg, La Crosse Central and New Holstein was the order of finish at the Reedsburg Quad played at Chula Vista Saturday using the Stableford scoring system.
Sunday League Northern Section Home Talent Baseball: Sauk-Prairie wins 5-2 at Middleton with a four-run seventh the key highlighted by Steve Pacholke's two-run single. Paul Lenerz gets the win in relief of Matt Katzman for Sauk who is 2-0 for the Sunday League season.
Reedsburg evens up at 1-1 after a 10-6 win over Lodi Sunday with Marcelino Alonso homering and driving in five runs with Seth Brandt also collecting three hits for the Reedsburg Pirates and Sam Seymour worked eight innings to get the win with seven strike-outs.
Cazenovia is 0-2 in the Sunday League with a second straight one-run loss, dropping a 2-1 decision to Cross Plains yesterday. Sam Overlein pitched a five-hitter with five strike-outs in seven innings but still took the loss as Kenny Allen tossed a complete game six-hitter with seven strike-outs for Cross Plains. Kalen Mace had two hits for Caz.
Black Earth wins 17-3 at Plain with 19 hits as Rob Capener, Myles Potuznik and Anthony Hoeschele all homered and Lucas Hoeschele had four hits. Richland Center gets by Waunakee 7-6 and Ashton wins 14-2 over Mazomanie.