by Matz ~ May 12th, 2014. Filed under:
Matz on Sports
.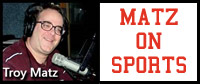 Baseball: Baraboo was looking  to snap a six-game losing skid with a Badger North baseball make-up at Waunakee today but the game has been postponed and will be made up on Wednesday at 4:30 PM. Baraboo is now 4-9 overall and 1-6 in the conference but they played pretty well in a 7-5 loss at Reedsburg Friday. Baraboo has given up 67 runs during this six-game losing streak. Waunakee is 2-4 in Badger North and they've lost two straight league games.
Sauk-Prairie is coming off a 9-8 win over Tomah Saturday and the Eagles take a 2-5 Badger North record on the road to play 0-6 Mount Horeb sometime soon  Sauk is 3-9 overall after the Saturday win and this will be their first meeting with Mount Horeb this season. Paul Zech had four hits and four rbi's Saturday for the Eagles.
Wisconsin Dells is 0-2 vs Wautoma and 3-0 against everyone else in the SCC baseball season with Dells scheduled for a make-up at Adams today in their only scheduled conference game this week. Wisconsin Dells was to play Portage originally on this date but that game has been cancelled. De Soto at Weston also is on the schedule today in the Ridge and Valley Conference.
Softball: Mount Horeb is scheduled to play a Badger North softball make-up at Sauk-Prairie today at 5 PM with the Sauk girls 2-7 and Mount Horeb 4-4 in the conference. Sauk dropped a 7-0 decision to the Vikings one week ago and the Eagles are coming off two losses vs Milton Friday. The Eagles also go to Waunakee tomorrow.
The Wisconsin Dells girls are hopeful of a trip to Portage today on the softball diamond for non-c0nference action at 5:00. Dells edged Nekoosa 7-6 Friday and that puts the Lady Chiefs at 8-7 overall for the season. Portage is coming off a good week with the return of pitcher Jenalee Wilson, winning three of four games and two of three in Badger North. The Weston girls are scheduled to host De Soto today in the Ridge and Valley.
Girls Soccer: Baraboo looks to get back above the .500 mark for the season in high school girls soccer with a 7 PM make-up non-conference match at Richland Center. Baraboo is 5-5 overall after beating Lake Mills but losing to Glenbrook South from Illinois over the weekend and will be favored to knock off Richland Center from the SWC with Baraboo at Sauk-Prairie on Wednesday in another make-up.
Boys Tennis: Baraboo lost their Badger North boys tennis opener to Sauk-Prairie but look to even things up today in a 4 PM dual at Reedsburg. Baraboo has just two dual wins out of seven overall with Portage and Waunakee also on the Badger North schedule for Baraboo later this week. Reedsburg has won six of nine duals overall and they are 1-1 in Badger North with a win over Portage and a loss to Sauk-Prairie with improved singles play of late for the Beavers.
Track and Field: Baraboo hosts their annual Freshman and Sophomore only track meet today at 4 PM at Beryl Newman Field with many area schools scheduled to take part. It could be a huge day for the Baraboo girls who have many Freshman that have been among the top competitors on the varsity squad this year including the owner of the top discus throw for anyone in the State, Josie Schaefer.