by Matz ~ May 10th, 2014. Filed under:
Matz on Sports
.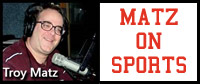 Baseball: Sauk-Prairie and Portage both host Tomah today in non-conference baseball with Portage hosting at 11 AM and Sauk-Prairie hosting this afternoon. Sauk lost two games to Milton yesterday while Portage rallied to beat Mount Horeb to stay unbeaten in Badger North. Weston plays two games at Bruce today where former Weston coach Larry Villiard is now the AD with Weston losing 4-3 to La Farge yesterday.
Softball: Reedsburg meets Tomah and Madison Edgewood plays Middleton today in 9 AM softball games at Nishan Park to begin the Reedsburg Softball Invite with both the consolation and title games of the Tournament set for around 11 AM. Reedsburg fell to 3-11 overall after a 16-5 home loss to Baraboo last night. The state ranked River Valley girls also play in a tournament today in Belmont.
Boys Tennis: Sauk-Prairie will be busy today at the Stoughton High School boys tennis event. Sauk has won eight of ten duals and this will be their first Invitational with Milton, Monroe, Oregon, Janesville Parker, Jefferson, Big Foot and Delafield St John's among the other teams in the field. 8:30 AM is the start time.
Portage hosts a prep boys tennis quad today with Black River Falls, Mauston and Holmen joining in. Portage lost 6-1 to Reedsburg in their Badger North opener earlier in the week and lost 7-0 to Waunakee yesterday.
Girls Soccer: Baraboo hosts a team from Illinois today in girls soccer as Glenbrook South comes to Beryl Newman Field for an 11:00 match. Baraboo started to build some momentum for their season with a 3-2 Badger North win at Reedsburg on Tuesday and then knocked off Lake Mills last night.
Sauk-Prairie hosts Tomah today in another non-conference girls soccer matchup after hosting a make-up with Watertown last night, winning 1-0 to go 6-4 overall.  The Eagles already have five shutout wins this year.
Sunday League Home Talent Baseball resumes tomorrow in the Northern Section with Lodi at Reedsburg, Cross Plains at Cazenovia, Sauk-Prairie at Middleton, Black Earth at Plain, Waunakee at Richland Center and Mazomanie at Ashton the scheduled matchups with all of those start times at 1 PM. Sauk, Black Earth, Middleton, Ashton, Cross Plains and Waunakee all won opening day games last Sunday. Portage lost to Rio in their Eastern Section game last Sunday and they go to Columbus tomorrow.