by Matz ~ April 14th, 2014. Filed under:
Matz on Sports
.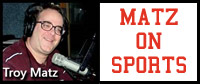 Baseball: Baraboo gains their third win of the high school baseball season with a split in a DH at Milton Saturday. Baraboo dominates game one 15-4 in six innings with eight base hits and taking advantage of eight walks from Milton pitching. Trevor Hanson and Matt Munneke each had two hits for the Thunderbirds who had a pair of five-run innings. Matt Meyer pitched a complete game eight-hitter with three walks and four strike-outs and the T-Birds also had just two errors defensively. Milton wins 7-5 in game two with some shaky defense costing Baraboo in this one with only three of the seven Milton runs earned against losing pitcher Matt Munneke and reliever Connor Weckerly. Baraboo actually out-hit Milton 9-7 with Griffin Nicksic and Frank Rath each with two hits. Baraboo is now 3-3 overall and had home games scheduled for this week Tuesday vs Reedsburg and Thursday vs Mount Horeb.
Portage has now lost two of three non-conference baseball games after a DH split with MG Saturday. MG rallies for a 9-6 win in game one with a six-run fifth inning as Stian Anderson takes the loss in relief of Jack Nelson with MG owning a 12-5 hits advantage as well. Brett Lentz had two hits for Portage and the Warriors come back to win 13-3 in the nightcap as Anderson and Jordan Walker combine on a six-hitter on the mound. Tyler Boodry had two hits for Portage who took advantage of 13 walks. Portage is 3-2 overall but 2-0 in Badger North. Mount Horeb also won two from Monroe. 
Reedsburg split a twin bill at Stoughton on Saturday with a 10-6 loss in game one and a 6-5, weather delayed victory in game two and those results put the Beavers at 4-1 for the young season overall including a mark of 2-0 in Badger North.
La Farge at Weston was scheduled today along with River Valley at Mauston.
Softball: River Valley lost 6-5 to De Forest and beat Brodhead10-6 at the De Forest Tourney with Kylie Hoffman taking the loss vs De Forest despite pitching a five-hitter with one walk and 13 strike-outs. It was River Valley's first loss and De Forest also beat Brodhead 10-2. Wisconsin Dells and Baraboo each were scheduled for two games Saturday at the Dells Invite with Dells getting in one game, a 19-2 loss to Black River Falls. Jaden Ward had two hits for the Dells girls with Darian Post the losing pitcher for the 3-1Dells Chiefs. Dells beat Wautoma 13-8 Friday to go 2-0 in the SCC with Dana Percival belting out 4 of the 14 Dells hits with Katie Kalcik the winning pitcher. The Dells girls were also scheduled at Portage today with La Farge scheduled at Weston today.
Reedsburg won their first game of the season Saturday 12-2 over Hillsboro with winning pitcher Sadie Ernstmeyer throwing a five-hitter. Ashlee Yager had three of the 11 Reedsburg hits while Ernstmeyer, Haley Rockweiler and Sydney Meeker had two each with Courtney Baker driving in three runs for the 1-5 Beavers.
Boys Golf: Baraboo comes away with a fourth place team finish for the small schools at the two-day Wisconsin Dells Invite which actually wrapped up Saturday at the Baraboo Country Club. Baraboo was third Friday with a team score of 316 and with tough weather Saturday, they shot a 336 and wound up fourth overall for the event. Mark Topham scored 77 for Baraboo, third best Saturday in that grouping, with Dawson Hinz at 83. Sauk-Prairie was sixth in Saturday's round with Darin Pulsfus at 83 Jack Rauner 84 and Erik Gilbertson at 86.  A score of 87  for Cam Stevens and a 90 from Parker Campbell led Wisconsin Dells with Jordan Brown's 86 leading Reedsburg. Portage was second Saturday in team scoring with Drew Ringlestetter at 77, Alex Gaffney and Ty Magnum at 81 and Brad Donahue at 82 for the Warirors. Edgerton was the small schools team champion. Sauk was to compete today at the Stoughton Invite.
Track and Field: Baraboo's boys won the team title at the nine-school Mc Farland Track and Field Invitational, scoring 50 points more than runner-up Fort Atkinson. Brandon Bowers won both hurdle events for Baraboo with other first's captured by Sean Cormican in the discus, Zach Solles in the 1600 and Jackson Snow in the 800. Baraboo also had three relay first's-Collin Feld, Matt Bruch,Garrett Getgen and Izak Walker in the 400, Ben Geenen, Walker, Brian Cormican and Tony Spink in the 1600 and Matt Brooks, Tyler Fiebig, Jerry Patten and Marek Sokolowski in the 3200. The Thunderbird girls placed 3rd behind Stoughton and Mc Farland with Freshman Josie Schaefer taking home the only first in the discus. Second's for Baraboo tracksters were recorded by Mitchell Goodchild, Patrick Sandoval, Collin Schulz, Garrett Getgen, Ben Geenen on the boys side along with Carli Zimmrman and the 800 relay of Emily Kieck, Hannah Crowe, Kelsey Judge and Kaylee Mueller for the girls.