by Matz ~ April 12th, 2014. Filed under:
Matz on Sports
.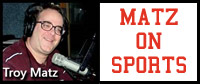 Baseball: Inclement weather is in the forecast for today but the Baraboo Thunderbird baseball team is slated to play a non-conference DH at Milton at 2 PM. Baraboo swept Randolph in a DH Saturday, outscoring the Rockets 26-3, but Baraboo is 0-2 in Badger North with a 16-2 loss to De Forest and a 13-3 loss to Portage, both on the road. Baraboo hosts Reedsburg Tuesday on 99-7 FM!
Reedsburg is scheduled to play at Stoughton in a DH today at 3 PM after starting the season 3-0. Reedsburg has scored 32 runs already in wins over Wisconsin Dells, Mount Horeb and Waunakee.
Portage Warriors baseball lost to Madison West in their season opener before winning big 20-5 over Sauk and 13-3 over Baraboo in Badger North play this week and the Warriors are scheduled to play a DH at Monona Grove today at 10 AM.
Softball: Kaminski Park in Wisconsin Dells hosts the Dells softball Invite today with four teams scheduled to play two games each today including Baraboo. Baraboo is 1-1 for the season after three postponements with a loss to De Forest and a win over Portage. Dells is off to a 3-0 start including a pair of SCC wins over Mauston and Wautoma and they've averaged over ten runs per game offensively. Today's play gets underway at 9:30 AM at Kaminski Park.
Reedsburg Beaver softball is still in search of win number one for first year coach Heather Fish with the Beavers playing today at the Richland Center quad. Reedsburg is 0-5 overall with two conference losses and they've allowed nine runs or more in each game. 3 PM is the start time today in Richland Center, weather permitting.
River Valley plays today in the De Forest softball Invite.
Track and Field: Baraboo compete at the Mc Farland Invite today and it would be the second meet in three days for the Thunderbirds. The boys and girls each won lopsided duals Thursday vs MG with Garrett Getgen, Marek Sokolowski and Emily Kieck all winning two or more events with several PR's turned in by athletes as well.
Girls Soccer: Poynette-Portage plays in a girls soccer Invite today at Belleville after being shut out twice this week vs Baraboo and Columbus.
Boys Golf: It's day two of the Wisconsin Dells Invite today with the format and schedule changin a couple of days ago with the small schools including Baraboo, Reedsburg, Portage and Wisconsin Dells competing at the Baraboo Country Club, which opened just two days ago, while the bigger schools will be in action at Coldwater Canyon near Chula Vista with well over 40 varsity squad competing beteween the two venues.