by Matz ~ April 12th, 2014. Filed under:
Matz on Sports
.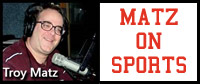 Softball: Portage wins a tight one 2-1 over Sauk-Prairie in Badger North softball to even up at 1-1 for the conference season. Sauk-Prairie took a 1-0 lead in the first and it held until Portage tied it in the sixth and then in the last of the seventh, Brooke Eichline's rbi double scored Nellie Hilgendorf with two outs to give Portage a win over 0-2 Sauk-Prairie. Winning pitcher Jenalee Wilson tosses a five-hitter with one walk and five strike-outs while Liz German also allowed just five hits in taking the loss with five walks and one strike-out and Sauk did play error free defense. Eichline and Hilgendorf had two hits each for Portage.
River Valley wins 6-1 at Prairie Du Chien in the SWC with winning pitcher Kylie Hoffman hurling a two-hitter with one walk and 13 strike-outs for the victorious Blackhawks while Taylor Briehl and Taylor Genthe each had two hits. Adams also edges Nekoosa 3-1 in SCC action.
Baseball: Wisconsin Dells suffers a rare conference loss in recent years in South-Central baseball, dropping an 8-1 decision to Wautoma on home turf. Taylor Jarzynski was the starting and losing pitcher, giving up five earned runs in three plus innings with Justin Hintze finishing up. Dells only had two hits against winning pitcher Jack Eagan as the Chiefs fall to 1-1 in the conference and 1-2 overall. Nekoosa also tops Adams 6-1 in the SCC.
Boys Golf: Baraboo is in third place among the small schools grouping after day one of the Wisconsin Dells Invite. Baraboo shot a team score of 316 and trail only Edgerton and Slinger in the team standings with Mark Topham scoring 76, Dawson Hinz 77 and Mike Contino an 8o on the Coldwater Canyon course. Jordan Brown led Reedsburg with a round of 90 with Bailey Crary at 93 and for Sauk-Prairie, Jack Rauner shot a round of 80 with Darrin Pulsfus at 86. Portage is in sixth place and Ty Magnum led the Warriors with a 73 and that score tied for the best among the small school golfers with Alex Gaffney at 81 and Drew Ringlestetter 82. Leading the way for Wisconsin Dells was Cam Stevens at 92 with Alec Anderson 94 and Logan Marsich 95 for the Chiefs. The small school golfers compete Saturday at the Baraboo Country Club.