by Matz ~ April 3rd, 2014. Filed under:
Matz on Sports
.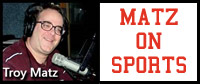 Softball: Baraboo is scheduled to open their season today at Waunakee in Badger North but field conditions and today's weather forecast have forced another postponement of the 5 PM contest. Misty Muter enters her second season as head coach of the Thunderbirds and welcomes back Kaitlin Stieve, Amy Schlender, Kelsey Brown, Kathryn Vander Schaaf and Chloe Gruber all as at least part-time starters with Stieve, Schlender and Vander Schaaf earning all-league honors last year. Kelsey Digmann and Shelby Gerken are all-leaguers that must be replaced along with four-time team MVP and three-time all league pitcher Jess Carignan. Liz Carignan and Vander Schaaf are likely to be the primary pitchers this season.
Portage was scheduled to play at Reedsburg today at 5 PM at Nishan Park but again Mother Nature wins out with a postponement.  Reedsburg is 0-2 with a pair of losses to Menominee while Portage looks to an all-league first team pitcher-catcher combo of Jenalee Wilson and Nellie Helgendorf. Sauk-Prairie at Mount Horeb has already been postponed for today and it's the second postponement this week for Sauk while Mount Horeb is 0-1 in the conference with a 10-0 loss to De Forest. Sally Albers, Carli Frey and Nicole Meyer are returning starters for a Sauk team that will be relying a lot on newcomers this spring fior coach Scott Frey.  Barneveld at River Valley and Wonewoc-Center at New Lisbon are among the other games scheduled today with Hillsboro at Royall moved from today to tomorrow, weather permitting.
Baseball: Reedsburg was hopeful of opening the 2014 baseball season today at Mauston at the Woodside Sports Complex but the game was postponed to May 14th. Coach Dennis Schommer's squad was 11-7 overall last year and back in the fold are all-conference second teamers in Nate Runde, Payton Sterkowitz and Jordan Bill, all-league honorable mention Ty Brandt with Steve Gavin, Sam Peterson, Lucas Muchow also back as regulars on a veteran squad that includes ten seniors. Finding consistent pitching will be the key for the Beavers this season and it was a factor at times last season. Reedsburg is also scheduled to host Wisconsin Dells Saturday and Webb Field would host that game if it's played.
River Valley is scheduled at Darlington with River Valley looking to replace eight all-league players from last year. Weston is scheduled to play at Ithaca with Mark Klang and Mason Mc Cauley returning as all-leaguers for the Weston Silver Eafgles. Wonewoc-Center is also scheduled at New Lisbon today in the Scenic Bluffs.
Girls Soccer: Reedsburg was scheduled to open the season at Holmen today at 4PM but have been postponed after a Tuesday postponement at Richland Center. Coach Erica Gronley will be counting on three-year Offensive MVP and future St Cloud State midfielder Kate Fearing and Junior Goalie Tiernee Schrank for leadership but 15 letter-winners do return from last year's 10-win squad.
Sauk-Prairie was scheduled to host Watertown tonight at 7 PM in their girls soccer opener with Mike Rauls beginning a second stint as girls soccer coach for the Eagles. Nyssa Goeres returns as an all-league first team forward, Georgia Breunig is back as a second team all-league defender with Sierra Suchla on hand as an all-league honorable mention selection with Kaylee Selden, Beth Yanke and Olivia Rauls other key players back in the fold. The Sauk match has been postponed. River Valley was scheduled to host Galena,Illinois tonight as well.
Track and Field: Reedsburg was to host Portage and Sparta at Millenium Field today but the cold and inclement weather has forced postponement of that event. 15 of Reedsburg's top tracksters compete at the WTFA Meet at UW-Whitewater in a meet where only those who have met certain standards are allowed to compete.