by Matz ~ February 18th, 2014. Filed under:
Matz on Sports
.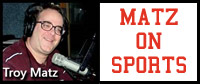 Girls Basketball: Badger North- Portage plays host to Baraboo  tonight for Badger North girls basketball action. Baraboo held Reedsburg to 30 points Friday but still lost a 30-22 decision in a game where both teams shot under 30% from the floor. Baraboo is 3-6 in the conference and 6-12 overall. Portage won their first conference game Friday by double digits at Sauk-Prairie High School and the Warriors lost three weeks ago 47-37 in Baraboo. Portage is 5-14 overall and they"ll host Baraboo tonight with live coverage around 7:20 PM on 99-7 FM with Scott Pionke and Kristi Feld on the call.
Sauk-Prairie is 3-6 in Badger North as they go to 6-3 Reedsburg tonight. Sauk fell by 12 at home vs Portage Friday and that puts the Eagles at 10-7 overall while Reedsburgis 14-4 on the season after a hard fought 30-22 win over Baraboo Friday. This game features two of the top individual players in the conference as well: Tiernee Schrank for Reedsburg and Georgia Breunig for Sauk-Prairie. Both are over 13 points per game with Schrank the league's leading rebounder as well. Reedsburg won 45-37 at Sauk in the first meeting.
De Forest leads the conference at 8-1 and they play at 7-2 Waunakee tonight with first place on the line. De Forest's only loss all season in 19 games was at home against Waunakee but the Warriors were 0-2 vs Mount Horeb this season so they remain behind De Forest in the standings.
Wisconsin Dells takes a 7-1 SCC girls basketball record to 8-0 Adams-Friendship tonight. This game was scheduled for last night in the first make-up and they'll give it a go tonight with Adams a winner 41-28 in the first meeting. Adams is 16-1 overall and they'll clinch the league title if they win tonight over the Chiefs who are 13-4 overall.It's an early start time of around 7 PM for tonight's game in Adams.
10-9 Mauston plays at 8-9 River Valley tonight in non-conference action with Hillsboro at Bangor in a make-up Scenic Bluffs game. Hillsboro is 7-3 in league play and Bangor 8-2 with Hillsboro beating Bangor 47-40 last week. Weston is 1-11 in Ridge and Valley girls basketball and they host 3-7 Wauzeka tonight with Wauzeka winning by 23 in the first meeting.
Boys Basketball: Sauk-Prairie goes to Mount Horeb tonight for a make-up Badger North game that was to be made up last night initially. Sauk fell to 7-3 in league play with a tough 62-61 loss to Reedsburg Friday so the Eagles must beat Mount Horeb twice this week and get a Reedsburg win over Mount Horeb Saturday and get a De Forest win over Reedsburg to set up a three-way tie for the title. Sauk is 14-6 overall and they've won 8 of 10 despite Friday's loss. Mount Horeb is 9-0 in Badger North and 18-0 overall and ranked first in the state in D-2 with a very deep and talented roster. These teams play again at Sauk Thursday in the regularly scheduled game with tonight's game starting early at about 6 PM preceeding a girls game already scheduled for tonight in Mount Horeb.
South-Central Conference- Wisconsin Dells may have played their best game Friday in a 60-41 win over Mauston and the Dells boys now go to Wautoma tonight. Dells is 3-5 in league play after the Mauston win and 5-15 overall, breaking an eight-game losing streak, and they'll face a Wautoma team that is 2-6 in the league including a 57-42 loss to the Chiefs in mid-January. Dells plays at Nekoosa in the regular season finale Friday and then will play there then again in one week in the WIAA Tournament opener. 7-1 Nekoosa is at 5-3 Adams and 4-4 Westfield visits 3-5 Mauston in the other SCC games tonight.
Scenic Bluffs Conference- 9-3 Hillsboro at 0-12 Wonewoc-Center, 7-5 Royall at 2-10 Cashton, 12-0 Bangor at 4-8 New Lisbon, 5-7 Brookwood at 9-3 Necedah
WIAA Sectional Team Wrestling: Sauk-Prairie wrestles Holmen for a berth in the WIAA State Team Wrestling Tournament in D-1 for the second year in a row tonight with the Team Sectional dual at Baraboo High School this evening. Sauk has been ranked fourth in the D-1 Crossface Magazine rankings almost the whole season and the Eagles are unbeaten this season in dual match competition. The Badger North overall champion and Badger Conference Tournament champion Eagles won by over 50 points in the team scoring at Saturday's Middleton Regional with 13 individuals moving on with five Regional champions and nine Sauk wrestlers have 25 wins or more this season. Holmen won the Mississippi Valley Conference again this season and they won the team title at the Tomah Regional Saturday with Reedsburg over 30 points back in second place. Sauk won big over Holmen last year to earn the trip to State and the two squads duke it out tonight at Baraboo High School at 7 PM.
Wisconsin Dells High School hosts a WIAA D-2 Team Sectional wrestling event tonight. West Salem/Bangor will tangle with River Valley and Lodi will square off against Evansville-Albany tonight in the 6 PM semi-finals with the Sectional final at about 8 PM featuring the two winners. River Valley won their own Regional team title Saturday with nine individuals moving on total while Regional titles that day were won by Dustin Hatfield, Elijah Alt, Joe Crook and Zach Koch. The WIAA State Team Tournament is Friday and Saturday March 7th and 8th at the UW Field House in Madison.
WIAA Tournament Boys Hockey: Reedsburg-Wisconsin Dells hosts the Aquinas Avalanche coop tonight as post-season play begins for the two high school boys hockey teams in the Dells at Poppy Waterman Arena. RWD is 10-13-1 overall after losses to Waunakee and Baraboo-Portage back-to-back to close out the regular season after winning three in a row before that. Overall depth may be an issue for Reedsburg-Wisconsin Dells but they do have star power with Jordan Brown and Andrew Schulenburg both over 30 points with Zach Clisch and Austin Schyvinck big-time anchors on defense. The Aquinas coop has come on of late but they lost 3-0 at RACA in Reedsburg against Wisconsin Dells earlier this season. RWD as the six seed hosting 11 seed Aquinas at 7 PM tonight at Poppy Waterman with the winner to play in Baraboo Thursday night.
Sauk-Prairie's boys hockey coop makes  the trip to La Crosse tonight for their WIAA Tournament opener. The Sauk group is 4-19 overall but they snapped an 11-game losing skid in their regular season finale, a 7-1 victory over De Forest, so they take some momentum into the post-season. Sauk is the ten seed and playing at the seven seed La Crosse Central-Logan coop at Green Island Arena at 7:30 PM. La Crosse is 5-13-1 overall including a 6-1 win over the Sauk group at mid-season. Tonight's winner plays at two seed Onalaska Thursday night.