by Matz ~ February 17th, 2014. Filed under:
Matz on Sports
.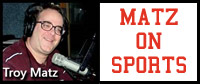 The post-season begins next week for high school boys basketball teams across the state and teams now know their WIAA Tournament paths as the brackets are now set in all five divisions. In Division Two, Reedsburg and Sauk-Prairie as expected got the number one and two seeds in their six-team Regional grouping and they both get byes on Tuesday February 25th while the three seed De Forest will host six seed Baraboo that night and the four seed Portage will host five seed Waunakee with both games at 7 PM. The Baraboo-De Forest winner plays at Sauk-Prairie on Friday February 28th while Reedsburg will host the Portage-Waunakee winner on Friday night as well. The two Friday winners would meet Saturday night at the site of the best seeded team. Badger North leader and unbeaten Mount Horeb is the top seed in a seperate D-2 Regional.
Wisconsin Dells is in D-3 in the boys basketball Tournament Series with the Chiefs on the road as the six seed in their seven-team Regional and they will play at Nekoosa, the three seed, on the 25th and the winner would move on to likely face two seed Poynette on the 28th as they host Wautoma on the 25th. The other half of that Regional shows four seed Westfield hosting five seed Adams on the 25th with the winner at top seed Lodi on the 28th. River Valley gets a bye as a two seed in a seperate D-3 six-team Regional and will host three seed Richland Center or six seed Prairie Du Chien on Friday the 28th with Dodgeville hosting Platteville on the 25th and that winner plays at top seed Madison Edgewood on the 28th. Mauston makes a long trip to Bloomer in their WIAA boys D-3 Tournament opener.
Hillsboro gets a two seed in their eight-team Regional in D-5 and the Tigers open the post-season at home on the 25th against seven seed Cashton with the winner to face three seed La Farge or six seed Weston who play in La Farge on the 25th. The other half of that bracket has four seed Royall hosting five seed New Lisbon on the 25th with top seed Bangor hosting eight seed Wonewoc-Center that night as well. WIAA Tournament girls basketball begins on Tuesday March 4th.