by Matz ~ January 27th, 2014. Filed under:
Matz on Sports
.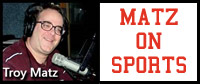 Boys Hockey: Baraboo-Portage improves to 12-4 overall with a 7-2 victory over the Aquinas coop Saturday at the Pierce Park Pavillion. It was a very physical, hard hitting game and both teams had numerous power play chances. Baraboo-Portage broke out to a 3-0 lead after one period with Dawson Hinz, Steven Mordini and Tyler Laux all scoring goals with the Laux goal shorthanded. Baraboo-Portage saw the lead shrink to 3-1 early in the second period on a Justin Kendall goal from the high slot but the Baraboo group responded with power play goals from Griffin Nicksic and Nick Mc Donald to go up 5-1 and Baraboo's coop tacks on two more goals in the final period with Laux scoring another short-hander and Mordini also registering his second goal as well and Baraboo-Portage wins 7-2, dropping the Avalanche to 3-14 overall. Sean Mc Cutchin made 24 saves in net for the Baraboo crew with their next scheduled game Tuesday vs RWD already postponed.
RWD was held to 11 shots on net in a 7-0 loss at second ranked Wisconsin Rapids Saturday. Mike Olson had 25 saves for Reedsburg-Dells who falls to 7-11-1 overall with a Tuesday game vs Baraboo-Portage already postponed.
Badger Thunder girls hockey is shut out in Badger Conference play for the second straight night in a 3-0 loss to the Metro Lynx Saturday at Hartmeyer Ice Arena. The Lynx scored in each period en route to their second win over the Thunder this season. The Thunder had only 11 shots on net as they fall to 1-5-1 in the league and 6-9-1 overall. Jamie Dutton was busy in goal with 48 stops for the Thunder who has seen their Tuesday game with Viroqua already postponed.
Badger Challenge Boys Basketball: Sauk-Prairie gets to the 10-win mark with a Saturday afternoon win 60-49 over Madison Edgewood. Sauk exploded out of the gates Saturday as they did in their previous game with De Forest, leading 39-19 at the half behind 10 points from Seth Kostroski, and they cruise to victory to go 10-5 overall. Kostroski and Jake Fiene scored 12 points each for the Eagles whose make-up game at unbeaten Mount Horeb Tuesday likely not to be played with no school that day.
Reedsburg also reaches the 10-win mark Saturday with a 46-41 win over Stoughton in De Forest. Reedsburg was down 10 at halftime, scoring only 11 points, but they outscored the Vikings 35-20 in the second half. Reedsburg converted 17 of 27 free throws compared to 3 of 6 for the Vikings. Nate Runde scored 14 for the 10-4 Beavers who will play at Stoughton on Thursday. Elsewhere in the Badger Challenge, Milton topped De Forest 62-57, Monroe was a winner 60-46 over 6-8 Portage despite 17 points from Portage's Taylor Krocker and Mount Horeb stays unbeaten 64-54 over Monona Grove in the matchup of conference leaders. The South ends a three-year win streak for the North in the Badger Challenge with a 4-3 win this year in the seven games played in De Forest.
River Valley topped Wisconsin Dells and Richland Center won 63-42 over Mauston in other boys basketball Saturday.
Girls Basketball: Portage has just three wins in this girls basketball season but they've won two of their last three including a 60-48 win over Milton Saturday night. Portage had four players score in double figures for the first time this season with Caitlin Hibner scoring 19, Maria Wilson 12, Addison Hemming 12 and Jayne Hurd 11 as Portage built a 13-point lead through three quarters, improving to 3-10 overall. Portage at Waunakee will likely not be played tomorrow night.
Wrestling: Sauk-Prairie wins the Portage Duals Saturday to keep their unbeaten dual record intact and it's their fifth tournament win. Sauk beat Lancaster 59-15, Portage 67-0 and Lodi 60-9 with Brandon Sprecher, Chris Chrisler, Abe Bonneville, Zach Niemi, Drew Fjoser, Eddie Smith, Kyle Herbrand and AustinFjoser all were unbeaten for the day.
Weston-Ithaca and Reedsburg had top five team finishes at the Sparta Invite Saturday. Reedsburg had no champs but Logan Lewerenz and Nate Erbs had second's and Dylan Le Moine 4th for the shorthanded Reedsburg group who have some wrestlers down with illness. Weston-Ithaca saw Hunter Dischler and Stetson Clary both repeat as champions with Mason Mc Cauley second and Cody Willis 4th. Mauston was sixth in team scoring with Spencer Davies and Justin Dolata winning titles for the Golden Eagles. Edgar was the tournament champion.
Gymnastics: Reedsburg finished last place among  six schools in the large school division at the Southwestern High School Invite Saturday with no top five individual finishes in any events. Middleton was the large school team champion and Mount Horeb for the small schools.
Dells Ducks Junior Hockey returns to action Sunday after a long lay-off, crushing Edina 11-1 in the Minnesota Junior Hockey League. Ian Wood scored three goals and Ian Harris, Jacob Stima and Layne Martin all had two apiece as the Ducks stay atop the Minnesota Division.