by Matz ~ January 25th, 2014. Filed under:
Matz on Sports
.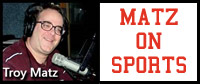 Girls Basketball: Baraboo was guilty of 23 turnovers in a 49-25 loss to Schofield DC Everest Friday in Baraboo with the Thunderbirds now 4-9 overall. Baraboo led 8-5 after one quarter before the turnovers started to mount and Everest owned a 20-3 second period advantage and pulled away further in the second half. Everest gets to the foul line 29 times in the game and they made 23 compared to 3 of 9 for Baraboo. 6'3 post player Taylor Hodell scored 14 points, ten of them at the line, for the 14-1 Evergreens while Emily Stieve scored nine points to lead Baraboo who will play at De Forest Tuesday.
Sauk-Prairie's seven-game win streak ended Thursday but the Eagles started a new streak last night, winning 59-35 at Mosinee behind the 1-2 punch of Georgia Breunig and Ali Roach. Sauk dominated the first three periods, leading 19-9 at the quarter, 38-16 at the half and 53-27 after three periods with Breunig scoring 16 and Roach 14 for the 8-3 Eagles who got six three-point goals in the win.
Wisconsin Dells edges Westfield in a tight game for the second time ths season in SCC girls basketball 33-32 last night in the Dells. It was a close game throughout and Dells pulls out a win despite making only three of nine free throws. Hunter Hickey for Wisconsin Dells was the only double figure scorer in the game with ten points with the Lady Chiefs now 4-1 in the conference and 9-3 overall and looking to a matchup with first place Adams Tuesday. Adams stays unbeaten in the conference with a 60-33 drubbing of Wautoma andNekoosa edges Mauston 50-43.
Kickapoo edges Weston 38-30 in Ridge and Valley girls basketball with Weston still with only one league victory.
Boys Basketball: Baraboo's losing skid extends to nine in a row in a 56-46 loss to Fort Atkinson in the Badger Challenge last night in De Forest. A Baraboo opponent shoots over 50% from the floor for the fourth straight game as the Blackhawks make 51% of their shots compared to 38% for Baraboo as Fort pulled away in the second half for a win over the 2-13 Thunderbirds. Nick Stack was perfect from the floor in Thrusday's game at Waunakee en route to 19 points and he was 7 of 9 from the floor on the way to 19 points last night as well with Ty Schlichtmann adding 11. Baraboo is at Sauk Thursday. Oregon also wins 41-36 over Waunakee last night as the South leads the North 2-0 early on in the challenge.
Scenic Bluffs Conference-Necedah 57 Royall 45, Bangor 80-35 over Wonewoc-Center and Brookwood wins 58-51 over Cashton.
SWC-River Valley nips Lancaster 47-45 to go 3-2 for the conference season behind 15 points from Gale De Vita
Badger North Wrestling: Baraboo improves to 3-1 for the conference dual season with a 42-33 win at Mount Horeb. Baraboo gets one forfeit win for David Gale and match winners for the Thunderbirds include Hudson Greenwood at 220, Trevor Hanson at 106, Anthony Perez at 120, Willy Pierce at 138,  Andre Mayllen at 145, Hermes Duran at 160 and Ben Goodreau at 182. Baraboo was forced to forfeit two matches but they still win with the Vikings falling to 2-2 in the conference.
Waunakee win their first conference dual last night, 40-24 over Portage who ends their conference dual season at 0-6. Portage gets wins from Kyle Mc Tier, Mitchell Golke and Jacob Poches with two forfeit wins. Portage hosts their dual meet tourney today.
Badger North Boys Hockey: Baraboo-Portage routs the Sauk-Prairie coop 10-2 last night to go 4-0 for the conference season. The Baraboo group scored five first period goals to go up 5-0 early and establish control with two in the second period and three more tallies in the final period with the Sauk coop now 0-4 in league play and 3-14 overall. Dawson Hinz scored a hat trick with three goals and one assist while Adam Stanton, Tyler Laux, Doug Mc Donald, Griffin Nicksic, Steve Mordini, Zach Showers and Brad Donahue also scored goals with Mordini registering four points overall and Stanton with three points. Sauk's goals came from Michael Wenzel and Jacob Olson while Koty Ranum had 37 saves in net and Kevin Godeman 16 for Baraboo-Portage who will play host to the Aquinas coop today at 12:30 PM with a live broadcast on 99-7 FM with Troy Matz and John Blosenski from the Pierce Park Pavillion.
Badger Thunder girls hockey is shutout by Stoughton for the second time this season last night in a 4-0 Badger Conference loss at the Pierce Park Pavillion. Stoughton was energized all night with a 58-15 edge in shots on net as Thunder goalie Jamie Dutton made an incredible 54 saves with the Thunder now 6-8-1 overall and 1-4-1 in league play. The Thunder faces the Metro Lynx at 5 PM tonight at Madison Ice Arena in a Badger Conference make-up game.