by Matz ~ January 22nd, 2014. Filed under:
Matz on Sports
.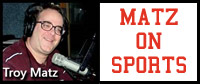 Boys Basketball: Badger North-Baraboo now has dropped 19 in a row in Badger North after a 50-40 setback vs Portage in Baraboo. Portage jumped out to a 17-9 lead after one quarter and built a 12-point lead in the third quarter although Baraboo would rally to within four late but could not get over the hump as Baraboo drops their seventh in a row overall at 2-11 with Portage now 6-7 overall and 3-3 in the conference with three straight Badger North wins. Baraboo shot just 31% from the floor but had only nine turnovers to give themselves a chance with Drake Coleman hitting three three-point goals en route to 11 points and Nick Stack scored nine for the Thunderbirds. Portage shoots 47% for the game and they get 16 points from Jordan Walker and 11 from Taylor Krocker as the Warriors sweep the regular season series from Baraboo. Baraboo plays a conference make-up game at Waunakee tomorrow night and they'll face Fort Atkinson Friday night in De Forest in the Badger Challengre at 7:45 PM.
Sauk-Prairie played their best overall game in quire some time last night, dominating De Forest in a 70-38 win over the Norskies at Sauk-Prairie High School. The Eagles raced to a 16-6 lead after one quarter and then exploded for a 37-9 halftime lead,closing out the half on a 30-4 run with Simon Breunig scoring 16 first half points for Sauk. The Eagles hit on seven three-point goals, scored on several fast break chances, scored some points inside and ran their half-court offense effectively while showing active hands on defense. Seth Kostroski adds 13, Jake Fiene 11 and Bailey Breunig 10 for the Eagles who are 4-2 in the conference and 9-5 overall as De Forest falls to 4-10 overall and 3-4 in the league. Brendan Lapp scored 12 points for De Forest.
Mount Horeb stays unbeaten with a 49-42 home win over Reedsburg in a matchup of conference unbeatens. Mount Horeb took a 23-19 halftime lead and increased the advantage to 12 in the third period and were threatening to blow the game open but Reedsburg would rally. The Beavers closed the gap to 40-37 in the final three minutes but Mount Horeb made 7 of 8 free throws in the final minute to go 12-0 and 5-0 in the league. Isiah Lesure scores 15 and Max Meylor 10 for the top ranked Vikings while Reedsburg, now 9-4 and 5-1 in the conference, gets 15 points from Ty Horkan in the loss.
South-Central-Wisconsin Dells found themselves down 33-15 at the half in a 68-51 loss to first place Nekoosa in SCC boys hoops in the Dells. The Chiefs did get to within nine in the third period but could get no closer, falling to 4-9 overall and 2-3 in the South-Central as Nate Scott scored 13 and Dez Morse ten. Nekoosa is now 3-1 in the SCC and they were 22 of 35 on free throws with Owen Linzmeier doing much of the damage with 29 points for the Papermakers. Westfield drops Wautoma 71-56 and Adams trims Mauston 39-31 elsewhere in the South-Central.
SWC-Gale De Vita scores 18 points but River Valley loses a make-up game 50-49 to Dodgeville, falling to 2-2 in the conference.
Scenic Bluffs Conference-Royall is now 5-2 in the league after a 52-49 win over 4-2 Hillsboro with Cashton winning their first league game 64-34 over winless Wonewoc-Center. Bangor stays in first place with an 85-72 win over Necedah and Brookwood wins at New Lisbon 56-50.
Seneca edges Weston 39-27 in a Ridge and Valley Conference make-up with Weston still winless in the conference.
Girls Basketball: Reedsburg is 9-3 after a 54-41 win over Wisconsin Rapids behind 27 points from Tiernee Schrank. Reedsburg was actually down five after one period but they controlled the proceedings from that point on. Ana Sprecher adds 10 points for the Beavers who were also 12-15 at the foul line.
Hillsboro falls two games back of first place Brookwood in the Scenic Bluffs girls standings at 3-2 after a 51-45 loss at 6-0 Brookwood last night.
La Farge knocks off Weston 48-30 in the Ridge and Valley for the second time this season.
Westfield knocks off Mauston 56-44 in a make-up game in the SCC Tuesday.
Adams-Friendship is 12-1 for the girls basketball season after a 49-12 drubbing of Columbus last night, leading 37-4 after three periods.
Boys Hockey-Reedsburg-Wisconsin Dells struggled early but then rolled to an 8-2 boys hockey win at Sparta last night, improving to 6-10-1 on the season. After a scoreless first period, RWD scores five times in the second period with three more goals in the final period in the victory. Jordan Brown and Jordan Bill both record hat tricks with three goals apiece with Luke Lavely and Andrew Schulenburg also with goals while Schulenburg also recorded four assists and three each for Brown and Bill. RWD also owned a 47-18 edge in shots on net. RWD hosts De Forest tomorrow at RACA in league play. De Forest is now 1-3 in Badger North after a 10-0 loss to 3-1 Waunakee last night.
Wrestling:Portage wins a non-conference dual 43-28 over Madison La Follette last night with victories posted by David Gunderson, Lars Anderson, Hunter Hayes, Mitchell Golke, Jacob Poches, Dylan Horn and Seth Zimmerman with one forfeit win.
New Lisbon 57-18 over Hillsboro in the Scenic Bluiffs with Mitchell Morris, Nolan Hammer and Max Sebranek posting the wins for the Tigers.