by Matz ~ January 21st, 2014. Filed under:
Uncategorized
.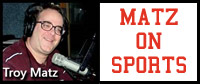 Boys Basketball: Badger North-For the second time in 11 days, Baraboo and Portage will get after it on the court in Badger North boys basketball with tonight's game in Baraboo. The two squads met on January 10th and it was all Portage in a 45-23 win as the Warriors went on a 20-0 run over 13 minutes midway through the game as Baraboo shot under 20% for the game for the second time this season. Baraboo is 2-10 overall and looking to snap a six-game losing skid with a mark of 0-5 in Badger North. Baraboo has allowed 60 points or more in five of the six games during the skid after not doing that at all during the first six games. Portage is 5-7 overall with wins in three of the last five games and Portage is 2-3 in Badger North with conference wins in the last two outings over Baraboo and De Forest. Jordan Walker's 15 points per game for the Warriors leads Badger North. 7:30 PM game time tonight at Baraboo High School with Dave Helwig and Tom Steinhorst on the call on 99-7 FM with the TV replay set for Saturday at 8 AM on My Family TV/43!
Sauk-Prairie welcomes in De Forest tonight for their second meeting in 11 days in Badger North boys basketball with Sauk looking for some payback. The Norskies upset the Eagles 51-47 on January 10th with some strong physical play inside with De Forest coming in at 3-3 in the conference but 4-9 overall with losses in seven of their last eight games. Sauk-Prairie is 8-5 overall and 3-2 in the conference but they've lost two of three including a 54-31 loss at La Crosse Aquinas Saturday. The Eagles are banged up with Tanner Leister out for the Aquinas game and Bailey Breunig coming back gradually from an ankle injury. You can see the game live on the Sauk-Prairie Eagle Sports Network tonight with Tom Schwarz and Troy Matz with game time around 7:30 PM at Sauk-Prairie High School.
Reedsburg is 5-0 and Mount Horeb 4-0 in Badger North boys basketball and the two meet in Mount Horeb tonight. The first scheduled game between the two was postponed so this is the first meeting with the conference lead on the line. Reedsburg is 9-3 overall after a win over Edgewood Thursday but had lost two of three before that game. The Beavers have topped 50 points offensively only three times but their defense has held opponents to under 40 points nine times this season. Mount Horeb is 11-0 overall and now has moved to the number one spot in the D-2 state rankings from AP and the Vikings were the pre-season pick to win the conference. The first scheduled game will be played at the end of the conference season.
South-Central Conference-Wisconsin Dells gets their first look at Nekoosa tonight in SCC boys basketball in need of a win to stay in the title chase. Dells is 2-2 in the conference with wins over Westfield and Wautoma and losses to Adams and Mauston while Nekoosa comes in at 2-1 in the league and in a share of the conference lead with Adams. Dells dropped to 4-8 overall with a loss Saturday to Laconia and that leaves the Chiefs now 1-5 in the last six games overall. Other SCC games tonight show 1-2 Westfield at 2-2 Wautoma and 1-2 Mauston is at 2-1 Adams.
Scenic Bluffs Conference- 4-1 Hillsboro at 4-2 Royall, 0-5 Cashton at 0-6 Wonewoc-Ctr, 5-0 Bangor at 5-1 Necedah, Brookwood 2-3 at 2-4 New Lisbon
Girls Basketball: Reedsburg plays a rare home game tonight in girls basketball, welcoming in Wisconsin Rapids from the Wisconsin Valley Conference. Reedsburg is 8-3 overall despite only having played three home games although the Beavers have lost two of those and needed a near miracle finish to win the other with the Beavers looking to rebound  from a 45-31 loss to unbeaten De Forest. Reedsburg has won six of seven non-league game and now face a Rapids team that is 4-6 overall on the season.
Weston puts a 1-3 league record on the line at home against 2-2 La Farge tonight in the Ridge and Valley.
Hillsboro can tie Brookwood in the loss column for the conference lead in Scenic Bluffs girls basketball if they can win a make-up game at Brookwood tonight. Hillsboro is 3-1 in league play and 10-1 overall and face a Brookwood team that has played only seven games at 6-1 overall but 5-0 in the Scenic Bluffs.
SCC leader Adams-Friendship puts an 11-1 overall record on the line at Columbus
Monday-The winning streak of six games is snapped for Wisconsin Dells Chiefs girls basketball Monday in a 48-42 loss at Poynette. Dells started well with a 14-11 lead at the quarter with Jaden Ward and Hunter Hickey scoring all of the points early for the Lady Chiefs but Poynette controlled quarters two and three and built a 12-point lead by the early stages of the fourth quarter. Dells would make a push and close the gap to four but Dells comes up short and now sits at 8-3 overall with 6-5 Poynette now having won three straight. Ward and Hickey each score 15 points to lead Wisconsin Dells who will host Westfield Friday.
Portage breaks an eight-game losing skid with a 41-30 win at Lodi last night with the Warriors now 2-9 overall for the season. Portage built a 23-10 lead by halftime but saw that lead shrink to two after three periods but they then pull away in the final period to win by 11. Caitlin Hibner scores 19 and Addison Hemming 13 for Portage in the victory as they knock off 2-6 Lodi.
River Valley steamrolls Iowa-Grant 77-36 in girls hoops last night, outscoring the opposition 44-14 in the second half. River Valley improves to 7-5 overall.
Andrea Thomas scores 33 points for Mauston who rolls to a 66-38 win over Wonewoc-Center last night
Ithaca 53-45 over Royall with Jordan Cockroft scoring 24 points for the victorious Bulldogs.
Highland defeats Weston 48-32 in their non-conference game Monday
Wrestling: Portage hosts a dual with Madison La Follette tonight after Jacob Poches and Hunter Hayes won titles at the De Forest Norskie Invite Saturday. Hillsboro hosts New Lisbon tonight in a Scenic Bluffs wrestling dual. Max Sebranek won a title for Hillsboro at Saturday's Hillsboro Invite.
Boys Hockey: It's a busy three-game week for RWD boys hockey which kicks off with a game at Sparta tonight. RWD is 5-10-1 overall after losing a crucial league game 7-3 at Waunakee last week, severely hurting their chances of a league title in Badger North at 2-2. Reedsburg-Wisconsin Dells has won all five games via the shutout route but they've also allowed five goals or more seven times. Sparta is just 1-14 overall on the season. RWD also has De Forest and Wisconsin Rapids on the schedule later this week.
Boys Swimming: Baraboo swims a make-up Badger North dual at Waunakee tonight at 6 PM with Baraboo placing 10th in the 11-team Middleton Relays Saturday. Sauk-Prairie-Wisconsin Heights also hosts De Forest tonight after finishing sixth at Middleton.