by Matz ~ January 21st, 2014. Filed under:
Matz on Sports
.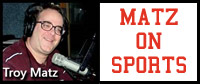 99-7 FM and AM 740-WRPQ is your home for lots of Baraboo Thunderbird sports action this week along with My Family TV/43! Baraboo hosts Portage tonight in Badger North boys basketball and we invite you to join Dave Helwig and Tom Seinhorst on the call with pre-game coverage around 7:20 PM with the TV replay of this game to be shown Saturday morning at 8:00 AM on My Family TV/43.
Baraboo's boys basketball team also plays a make-up game at Waunakee on Thursday and you can hear that game live once again on 99-7 FM with a 7:30 PM game time. Baraboo's girls basketball squad hosts Portage Thursday night as well and you can watch that game in full Saturday morning around 9;30 AM, also on My Family TV/43.
The Baraboo wrestlers are on the road for a conference dual at Mount Horeb Friday night and you can hear that contest live at 7:30 PM with Mike Mc Gann and Troy Spencer on the call on 99-7 FM!
The Baraboo-Portage coop boys hockey coop is enjoying a successful season and they will host the Aquinas Avalanche coop Saturday afernoon in a 12:30 PM at the Pierce Park Pavillion and that game will also come your way over the WRPQ airwaves live with Troy Matz and former Baraboo High School coach John Blosenski. 99-7 FM and AM 740-WRPQ and My Family TV/43 is your home for Baraboo Thunderbird sports!