by Matz ~ January 6th, 2014. Filed under:
Matz on Sports
.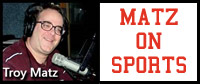 Boys Basketball: Baraboo had a rough outing in a 61-35 loss at Auburndale Saturday as Baraboo goes 0-2 on their northern road trip including a Friday loss to Marshfield. Baraboo was outscored in each quarter Saturday and the T-Birds offensive production was stymied a bit with only four free throw attempts. Baraboo shot only 39% from the floor and were outrebounded 22-13 in the contest as Drake Coleman and Matt Munneke scored six points each to lead 2-6 Baraboo. Auburndale is now 8-1 overall with Baraboo slated to host Waunakee tomorrow night, weather permitting.
Badger North-Mount Horeb won big 46-30 over De Forest Saturday in a conference make-up game between two league unbeatens. A 29-16 second half advantage propels the Vikings to victory and they now are 3-0 in the league and 9-0 overall with De Forest falling to 2-1 in the conference and 3-7 overall. Isiah Lesure scores 11 points to lead Mount Horeb.
Lakeside Lutheran 68 Mauston 38
Monday-Boys basketball games that were scheduled for tonight included Royall at Riverdale, La Farge at Wonewoc-Center and Weston at Necedah.
Girls Basketball: River Valley was scheduled to play at Ithaca tonight in a non-conference matchup.
Boys Hockey: RWD plays to their first tie of the high school boys hockey season Saturday, playing to a 6-6 draw with Madison Memorial Saturday night. RWD scored two goals in each period with Jordan Brown scoring two of them including the game-tying goal with just seconds remaining in regulation time. Other goal scorers include Zach Clisch, Andrew Schulenburg who tallied twice and Luke Lavely with four of the six goals coming on the power play and Austin Schyvinck and Jordan Brown also had two assists each. Mike Olson made 34 saves in goal for Reedsburg-Wisconsin Dells who is now 4-9-1 overall and will host the Sauk-Prairie coop Thursday in Badger North.
The Sauk-Prairie boys hockey coop has now won three of their last five games after edging the Aquinas Avalanche coop in Onalaska Saturday night 2-1.  Defenseman Ryan Fitzsimmons scored both goals for the Sauk coop, the first two of the game, and they hang on for a road victory with Koty Ranum making 41 saves in net to earn the win. The Sauk group is now 3-10 overall after an 0-8 start with the Sauk group hosting Waunakee Tuesday, weather permitting, and playing on the road Thursday vs RWD.
Badger Thunder Girls Hockey had a productive weekend with a 7-0 win Saturday over Arrowhead after a Friday win vs Black River Falls. Kristen South scored two first period goals for the Thunder with Justine Bradley and Jessica Patten also finding the back of the net early and the Thunder also got goals from Rachel Pawlak twice and aother from South to give her the hat trick. Katheryn Vander Schaaf tallied four assists on Saturday and Rachel Pawlak had two helpers as well. Jamie Dutton and Gaby Christenson combined for 13 saves in goal for the shared shutout and the Thunder is now 5-5-1 overall. The Badger Thunder has won three of four with a league game against the Metro Lynx out of Middleton on Friday night.
Wrestling: Reedsburg wins a high school dual meet wrestling tournament Saturday for the second straight weekend by winning three duals at La Crescent Minnesota. Reedsburg won 46-27 over Wabasha-Kellogg, 54-12 over La Crescent and 45-27 over Dover-Eyota in the championship round and the Beavers are now 13-0 for the dual season with three dual meet tournament team championships. Reedsburg is idle this week in competition on the wrestling mat.
River Valley wins a dual Friday 43-32 over Weston-Ithaca behind three forfeit wins. Hunter Dischler, Stetson Clary, Nick Bennett, Cody Willis, Mason Mc Cauley and Morgan Seep all won matches for Weston-Ithaca but River Valley wins the dual.
Boys Swimming: Sauk-Prairie-Wisconsin Heights had no top five finishers at the Milwaukee Marquette Invite Saturday in a star studded field with the Sauk coop placing 18th of 26 teams. Bryan Frosch had two top ten finishes. The Sauk group is idle this week until the Verona Invite Saturday.
Gymnastics: River Valley was scheduled for a dual meet at Reedsburg tonight.
Dells Ducks Junior Hockey lost two of three this weekend in the Minnesota Junior Hockey League, losing 4-3 at Steele County and 4-2 at Rochester with a 3-2 win over Edina. The Ducks lead the division with 55 points at 26-6 in league play and are idle now until January 26th.
UW-Baraboo Sauk-County was scheduled to host UW-Fond Du Lac County tonight in men's basketball with the Fighting Spirits still in search of their first win of the season but the game has been cancelled.