by Matz ~ January 4th, 2014. Filed under:
Matz on Sports
.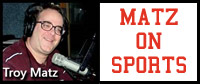 Badger North Wrestling: Sauk-Prairie is now 3-0 in the conference dual season after a 51-21 win at Baraboo Friday in Baraboo's Badger North opener. Sauk took control of the dual early with wins in the first five bouts from Juan Elizondo, Austin Fjoser, Brandon Sprecher, Chris Chrisler and Gage Neumaier with four of those five victories coming via pinfall. Baraboo won the next two matches with David Gale winning 12-5 at 195 and Hudson Greenwood pinned his man at 225 but Sauk gets a win from heavyweight Zach Niemi and they also get wins from Kyle Johnson, a pin from Drew Fjoser, an injury defualt win for Eddie Smith and Kyle Herbrand's pinfall. The other Baraboo wins came from Willy Pierce at 138 on a pin and a forfeit win for Trevor Hanson. Sauk is now 9-0 in duals this season.
Reedsburg is 2-0 in Badger North after a 40-31 win over Waunakee Friday at RAHS. Beaver wrestlers that won via pinfall were Nate Erbs, Trey Haugen and Ty Brandt with Austin Bretsch, Theyden Haugen and Dalton Hahn also posting wins with Reedsburg also getting two forfeit wins and Waunakee falls to 0-2 in the conference dual season. Reedsburg wrestles again today in La Crescent Minnesota.
De Forest routs Portage 57-15 to even up at 1-1 in Badger North last night as Portage now stands at 0-3 in the conference season. Barry Beime at 106 and Kyle Mc Tier at 132 were the only winners in a Portage lineup that was short-handed due to injury.
Boys Hockey: Baraboo-Portage took care of buisness with a 5-2 win at Tomah in high school boys hockey action last night. The Baraboo group scored at least one goal in each period with Steven Mordini and Wyatt Zalewski lighting the lamp in the first period, Tyler Laux in the second period and Laux scored two more in the third period for a personal hat trick for the Senior forward. Adam Stanton had two assists and Kevin Godeman had 12 saves in goal for the win as Baraboo-Portage improves to 8-3 overall.
Badger Thunder Girls Hockey wins for the second time this season vs Black River Falls with a 3-1 victory at the Pierce Park Pavillion last night. The Thunder trailed 1-0 after one period as BRF was thinking upset but Kathryn Vander Scahaaf and Rachel Pawlak scored power play goals in the second period and Kristen South added an insurance goal in the final period with Rachel Pawlak also recording two assists with Dani Imhoff and Justine Bradley with assists as well. Jamie Dutton had 16 saves in goal for the Thunder, now 4-5-1 overall. The Badger Thunder hosts Arrowhead tonight at Sauk-Prairie's home rink at 7 PM.
Girls Basketball: Richland Center nips Baraboo 39-36 as the Thunderbird girls lose their fifth straight game. Baraboo led 15-9 after one quarter with some strong shooting but Richland Center responds with a 14-4 second period advantage to go up 23-19 at the half and the Hornets hang on to go 3-5 with Baraboo now 3-6 for the season. Emily Kieck nailed three three's and scored 15 points to lead Baraboo and Leigh Drury scores 13 to lead Richland Center.
Sauk-Prairie extends their win streak to four in a row in girls hoops as the Eagles roll 74-26 over Milwaukee Tech last night. The Eagles exploded in the first half, taking advantage of Milwaukee Tech mistakes to build a 50-16 lead by halftime. 12 players scored for Sauk led by 16 points from Ali Roach and 10 from Georgia Breunig as the Eagles improve to 4-2 overall.
Reedsburg extends their girls basketball record to 7-2 after controlling Lake Mills 58-40 at JAG in Wisconsin Dells last night. The Beavers scored 16 points or more in three of the four periods en route to a season high 58 points. Tiernee Schrank scores a season high 24 points to lead the Beavers with Bre Hale converting three-point goals on the way to an 11-point night as Reedsburg wins their second in a row.
Adams-Friendship gradually assumed control in a girls basketball win at Portage last night 47-34 with Emma Roenneburg and Azure Hodkiewicz combining for 28 points for the 8-1 Green Devils. Caitlin Hibner scores 15 points to lead 1-7 Portage who has now lost six in a row.
Mauston evens up at 4-4 for the girls basketball season after a 57-39 win over New Glarus Friday with Andrea Thomas scoring 19 for the Golden Eagles who were 16-16 at the foul line.
Hillsboro improves to 8-0 with an overtime win over Ithaca 60-47 last night in Hillsboro. Ithaca rallied from 14 down in the final four minutes to tie the game at the end of regulation before Hillsboro prevails behind a career high 24 points from Kelsey Skala.
Boys Basketball: Baraboo hung tough early with Marshfield, a strong D-1 program, but Baraboo fell behind in the second half and lost 60-47 on the road. Baraboo led it 30-28 at the break but a 32-17 second half edge was the difference for the 7-4 Tigers. Ty Schlichtmann scores 14 and Taylor Hart 10 for the 2-5 Thunderbirds who were playing their first game in two and a half weeks. Baraboo also had 27 turnovers in Friday's game and the Thunderbirds continue their northern road trip today at Auburndale in a 4 PM game. It's the alma mater of Baraboo coach Brian Bauer.
Portage saw a seven-point halftime lead slip away and the Warriors lose at Mc Farland 45-44 to fall to 3-6 overall. Sean Chisolm's basket with less than six seconds left wins it for Mc Farland. Jordan Walker scores 16 and Taylor Crocker 12 for Portage in the loss.
Adams-Friendship 41 Cambridge 39 to go 4-5 for the season
La Farge 53 Royall 40