by Matz ~ January 3rd, 2014. Filed under:
Matz on Sports
.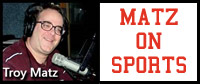 Area conferences are represented in this week's State high school basketball rankings from the WBCA. Mount Horeb and Monona Grove both are unbeaten and the two Badger Conference schools are ranked fourth and seventh respectively in the boys D-2 poll with La Farge from the Ridge and Valley 10th in D-5. Top ranked boys teams are Germantown, coached by Baraboo native Steve Showalter, West De Pere, Lodi, Whitefish Bay Dominican and Green Bay NEW Lutheran.
The girls state rankings show unbeaten Monona Grove and De Forest from the Badger Conference at four and five in the D-2 poll with top ranked girls teams including Kimberly, Green Bay Notre Dame, Neilsville, Algoma and Barneveld.