by Matz ~ January 3rd, 2014. Filed under:
Matz on Sports
.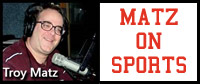 Wrestling: Badger North-Baraboo hosts Sauk-Prairie tonight in Baraboo's first conference dual of the season. Baraboo was postponed in an earlier date with Reedsburg so this is their first conference action. Baraboo is 1-5 in duals overall against some stiff competition and they've taken part in three Invite's including the Bi-State last weekend. Trevor Hanson and David Gale, Baraboo's two state ranked individuals,both placed 5th last week at La Crosse and both have individual titles in tournaments so far this season and the T-Birds have top four team finishes in two of those three Invite's. Sauk-Prairie is 8-0 in duals after winning the Mukwonago Duals last weekend and the Eagles also have won tournament titles at Campbellsport, Sun Prairie and Fond Du Lac this season. The fourth ranked Eagles are 2-0 in Badger North and at last report had Eddie Smith, Austin Fjoser, Austin Powell, Brandon Sprecher and Gavin Halverson all as state ranked individuals in D-1. The action begins tonight at 7:30 PM at Baraboo High School and you can hear it live with Mike Mc Gann and Troy Spencer on 99-7 FM with the TV replay set for 8 AM tomorrow morning.
Reedsburg will be heavily favored to go 2-0 for the Badger North dual season as they host 0-1 Waunakee tonight at RAHS. Reedsburg edged De Forest 30-26 in an exciting conference dual last month with a win in the final bout of the night and the Beavers won the Eau Claire Memorial Duals last week with a 5-0 record with Wyatt Rabuck, Nate Erbs, Trey Haugen and Nate Bergman all going unbeaten individually. Nate Erbs and Nick Sieber are state ranked wrestlers for the Beavers. Reedsburg also goes to La Crescent Minnesota on Saturday.  Waunakee is 0-1 in the conference with a 54-16 loss to Sauk-Prairie. 0-2 Portage is also at 0-1 De Forest tonight in Badger North wrestling.
Non-Conference-Weston-Ithaca in D-3 and River Valley in D-2 have been among the state's top teams in their respective divisions and the two area squad square off in a non-conference dual on the wrestling mat in Spring Green tonight. Joe Crook won a title in his weight class for River Valley at the Bi-State last weekend with Hunter Dischler a second place finisher for Weston-Ithaca, suffering his first loss of the season.
Boys Hockey: Baraboo-Portage goes to Tomah to kick off the new year in high school boys hockey tonight. The Baraboo group played well in the Culvers Cup Tournament in Madison this past weekend with two wins and an overtime loss to Monona Grove to claim second place and they are now 7-3 overall. Tomah hasn't enjoyed much success at 2-9 with one of the losses 2-0 vs RWD. 7 PM tonight in Tomah with the Sauk-Prairie boys hockey coop and the Reedsburg-Wisconsin Dells coop both in action tomorrow night.
Badger Thunder Girls Hockey: The Thunder hosts two non-league games this weekend at two different sites. The Thunder will host Black River Falls tonight at 7:30 PM at the Pierce Park Pavillion with a home contest vs Arrowhead Saturday night in a 7 PM face-off at Sauk-Prairie's home rink. The Thunder is just 3-5-1 overall but they played well at the Culvers Cup in Madison over the weekend with one-goal losses to St Croix Valley and the Metro Lynx and a 3-0 win over Brookfield. Badger Thunder won 4-1 over Black River Falls earlier this season. Baraboo is the site tonight vs Black River Falls and Sauk is the site for tomorrow night 's contest vs Arrowhead.
Girls Basketball: Baraboo is in the midst of a difficult stretch in their girls basketball schedule and another tough opponent awaits tonight with Richland Center hosting the Thunderbirds. Baraboo is 3-5 overall with four straight losses against MG, De Forest, Brookfield Central and Marshall as the young Baraboo girls go throught some growing pains. The three Baraboo wins have come against Wisconsin Rapids, Mount Horeb and Wisconsin Dells. Richland Center has had some good moments this year but the Hornets are just 2-5 on the season.
Sauk-Prairie is a perfect 3-0 in non-league play in girls basketball and the Eagles look to keep it going tonight on the home floor against Milwaukee Tech. Sauk has won over Milton, Monroe and Madison East in succession after opening with Badger North losses vs De Forest and Waunakee. The Eagles are scoring over 60 points per game during the win streak.
Reedsburg takes on Lake Mills tonight in girls basketball with the Beavers playing their first game of the season at JAG in Wisconsin Dells. Reedsburg is 6-2 overall after splitting games in Baraboo's Holiday Tournament with a one-point loss to Marshall and an easy win over Shawano. Reedsburg still has played only one game at RAHS so far this season. Lake Mills is 3-4 on the season overall.
Portage hosts SCC leader Adams-Friendship tonight in girls basketball. Portage is 1-6 overall with five straight losses after a 48-45 loss to Wisconsin Dells Monday. Adams is led by two-time SCC Player Of The Year Emma Roenneburg.
New Glarus at Mauston
Ithaca takes a 3-1 record to 7-0 Hillsboro tonight in girls basketball. Hillsboro is allowing less than 23 points per game and will be playing their fifth game against a team from the Ridge and Valley Conference this season.
Boys Basketball: Baraboo heads north for a two-game road trip in boys basketball this weekend with games at Marshfield tonight and at Auburndale tomorrow. Baraboo is 2-4 after a win vs Ithaca in their last game but that game was two and a half weeks ago so how Baraboo will respond to the lay-off will be key to their fortunes this weekend. Marshfield beat a state ranked La Crosse Central team recently and Auburndale, the alma mater of Baraboo coach Brian Bauer, is one of the top small school programs in the state.
Portage has some momentum as they go to Mc Farland tonight in boys basketball. Portage is 3-5 overall after a 56-39 win over Wisconsin Dells Monday behind 2o plus points from Jordan Walker. Mc Farland is 3-5 overall on the season as well.
Cambridge at Adams-Friendship
La Farge at Royall
Wonewoc-Center at Ithaca
Thursday-Sauk-Prairie builds a nine-point halftime and wins 68-57 over Dodgeville in non-conference boys basketball with the Eagles now 7-3 overall with their second win in a row. Jake Fiene scores a career high 20 points with Tanner Leister adding 16 and Seth Kostroski 14 for the victorious Eagles who were 21 of 27 on free throws.