by Matz ~ December 19th, 2013. Filed under:
Matz on Sports
.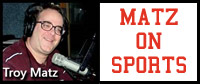 Girls Basketball: Badger North- Baraboo plays their first home game of the Badger North girls basketball season tonight against De Forest. Baraboo fell to 3-2 overall with a 69-40 loss to state ranked Monona Grove but the Thunderbird girls are 1-0 in the conference with a 59-49 win at Mount Horeb. Freshman Emily Kieck has led Baraboo in scoring in four of the five games and a generally young Baraboo squad will be facing a veteran De Forest team that is 4-0 overall including league victories over Portage and Sauk-Prairie. The Norskies feature one of the state's top guards in Junior Kayla Goth and four of their top five scorers from last season return including Jordana Midthun, this year's leading scorer. De Forest at Baraboo tonight live on 99.7 FM and AM 740-WRPQ with Scott Pionke and Kristi Feld and you can watch the TV replay of this game Saturday morning at 8 AM on My Family TV/43!
Reedsburg heads to Mount Horeb tonight for their second league game of the girls hoops season. Reedsburg is 4-1 to start the season but that one loss was vs Waunakee in Badger North 49-41 on Saturday. Reedsburg has been more productive offensively this year than expected early on and they'll face a Mount Horeb team that is 1-1 in the conference with a loss to Baraboo and a win over Portage and they have  a 4-1 mark overall themselves.
Waunakee is 2-0 out of the gate in Badger North girls basketball with a trip to face 0-2 Portage tonight. Portage is 1-4 overall after a 48-30 loss to Poynette on Tuesday night.
Non-Conference-Sauk-Prairie is scheduled for a trip to Milton tonight for girls basketball after the Eagles notched their first win for new coach Kristi Krueger on Tuesday against Monroe. Sauk struggled offensively and in the rebounding department in their losses to Waunakee and De Forest to start the season but improved greatly in both areas in Tuesday's 57-48 win over Monroe with Georgia Breunig, Taylor Greenheck and Ali Roach all scoring in double figures. Milton lost 12 players from last year's state tournament team.
South-Central Conference-Wisconsin Dells heads to Mauston tonight with both teams 1-1 in league play. Dells knocked off Westfield 44-37  before a 41-28 loss to Adams last week. The Lady Chiefs are 2-2 overall and have been involved in low scoring games, scoring 44 or less in each game but allowing 41 or less in each game. Mauston has a loss to Nekoosa and a win over Wautoma in the South-Central. 2-0 Westfield also plays at 2-0 Adams tonight in the other conference game.
SWC-River Valley has a conference win over Lancaster and they look to go 2-0 tonight at home against arch rival Richland Center. River Valley is 4-3 overall after an overtime loss to Fennimore Tuesday.
Boys Basketball: Badger North- Reedsburg is 3-0 in Badger North boys basketball and Sauk-Prairie is 2-0 as the two squads meet with first place on the line tonight in Reedsburg. The Eagles are playing well under first year coach Levi Massey at 5-1 overall with two of those wins in league play over Waunakee and Portage,both by 16 points. Sauk has six players that have reached double figures in scoring with Seth Kostrowski putting forth two 20-point games and the only loss was to state ranked Lodi. Reedsburg is 6-1 overall after a Tuesday win over Mauston and the Beavers have conference wins over Baraboo, Portage and Waunakee. Reedsburg has allowed under 30 points four times and under 40 six times with the only loss via the upset at home vs Tomah.
Scenic Bluffs-0-3 Cashton at 2-1 Hillsboro
1-2 Royall at 2-1 New Lisbon
2-1 Necedah at 0-3 Wonewoc-Center
3-0 Bangor at 2-1 Brookwood
Ridge and Valley Conference-0-4 Weston at 2-2 Seneca with Weston owning two non-league wins this season.
SWC-River Valley and Dodgeville are both 2-0 in Southwest Wisconsin Conference boys bassketball and the two square off tonight at Dodgeville. The visiting Blckhawks are 4-3 overall after an upset loss 51-49 to Belleville on Monday.
Boys Hockey: Baraboo-Portage puts their 4-1 record on the line at 4-2 Oregon tonight in non-conference boys hockey with the Baraboo coop sporting a three-game win streak. Baraboo-Portage leads Badger North at 2-0 after a big 3-0 win over Reedsburg-Wisconsin Dells Tuesday, earning the shutout for goalkeeper Sean Mc Cutchin despite being called for 17 penalties. Baraboo-Portage also has wins over Sparta, Stoughton and the Sauk-Prairie coop. 7 PM tonight in Oregon with a trip to Oshkosh on Saturday.
Reedsburg-Wisconsin Dells heads to Stoughton tonight for a 7 PM high school boys hockey face-off. RWD is 3-6 now for the season after a 3-0 loss in Baraboo with the RWD wins coming against Aquinas, Tomah and De Forest, all vis the shutout route. RWD has faced two state ranked teams and also have three one-goal losses on their ledger.
Boys Swimming: Baraboo hosts Holmen in a dual meet tonight at 6 PM at the Jack Young Middle School. This will be Baraboo's first dual met but they have been in three multi-team events with Tanner Craker already with two individual titles.
Tuesday-Sauk-Prairie-Wisconsin Heights 91.5 Waunakee 78.5 with Bryan Frosch winning two events while Spencer Shuman and Owen Doerre won individual titles along with the 400 Freestyle Relay for the Sauk coop.
Girls Gymnastics: Sauk-Prairie at River Valley