by Matz ~ December 18th, 2013. Filed under:
Matz on Sports
.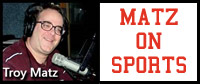 Boys Hockey: Baraboo-Portage is off to a 2-0 start in Badger North hockey after knocking off rival Reedsburg-Wisconsin Dells 3-0 last night at the Pierce Park Pavillion. Baraboo's coop was whistled for eight first period penalties including a five-minute major and RWD had two 5 on 3 advantages but could not score a goal as the teams skated through a scoreless first period despite very little five on five hockey. Nick Mc Donald scored the first goal midway through the second period on a wrist shot from the face-off circle with Adam Stanton and Logan Jacobs assisting. Less than two and a half minutes later, Wyatt Zalewski scored a goal from the slot area with TJ Laux and Griffin Nicksic assisting. Eric Zarilli tallies the final goal in the third period on a feed from Aaron Brekke and Sean McCutchin was strong in goal with 28 saves behind a strong defense. Baraboo-Portage was whistled for 17 penalties but they still get the shutout  to go 4-1 overall and 2-0 in the conference. RWD's Mike Olson makes 16 stops in net but Reedsburg-Wisconsin Dells falls to 3-6 overall and 1-1 in league play. Baraboo-Portage plays at Oregon tomorrow night with RWD at StoughtonThursday.
Badger Thunder Girls Hockey falls to 2-3 overall with an 11-5 loss to second ranked Onalaska at RACA in Reedsburg last night. Onalaska built a 5-0 lead in the second period before Tiara Barney and Justine Bradley with Rachel Pawlak assisting on both goals but it was Onalaska was up 9-2 after two periods. Kathryn Vander Schaaf scored two third period goals for the Thunder with Abby Allen scoring but Onalaska remains unbeaten with a 48-23 shots on goal advantage.
Boys Basketball: Baraboo notches win number two of the boys basketball season with ease in a 62-28 non-league win at Ithaca. Baraboo was up 28-20 at the half before a 34-8 second half blew the game open. Taylor Hart hit on three three-point goals and scored 14 points to lead the 2-4 Thunderbirds who snap a four-game losing skid. Baraboo hosts unbeaten Monona Grove Friday night.
Reedsburg allows only six first half points in a 54-25 home win over Mauston last night with Reedsburg now 6-1 on the season. Alex Wolter had 11 points and Nate Runde 10 as Reedsburg led 29-6 at the halftime break. Mauston is now 0-7 and Reedsburg has allowed less than 40 points in six of their seven games heading into a big one at home with Sauk-Prairie Thursday.
Portage falls to 2-5 in boys hoops with a 60-52 home loss to Poynette last night. It was close through three quarters but a 23-point fourth period for the Pumas helps them to victory. Portage made 12 of 14 free throws to stay close with Jack Nelson scoring 11 and Taylor Krocker ten for the Warriors in defeat. Portage hosts Waunakee Friday.
Girls Basketball: Things got much better on the offensive end for the Sauk-Prairie Eagles girls basketball squad Tuesday night and the competition was not as strong and it all results in a Sauk win 57-48 over Monroe last night. Sauk struggled vs Waunakee and De Forest in the first two games but the Eagles were more efficient on offense last night and they also hit on 23 of 29 free throws. Georgia Breunig scores 17 points to again lead the Eagles offensively but Taylor Greenheck adds 13 and Ali Roach 11 in the win over 2-3 Monroe with Sauk going to Milton tomorrow night.
Poynette made it a sweep of the boys/girls basketball doubleheader at Portage last night with the girls posting a 48-30 win over the Portage Warriors who are now 1-4 overall with no double figure scorers last night.
Ithaca 54 Weston 27 in the Ridge and Valley Conferrence with Weston now 2-4 overall and 1-2 in league play.
River Valley rallied late to force OT but then lost at home 44-42 in girls basketball to Fennimore last night. Kylie Hoffman scores 14 points and Alyssa Mueller 11 in the loss for 4-3 River Valley.
Gymnastics: Baraboo improved their team scoreto 113.8 in a dual meet loss to state ranked Mount Horeb who scored over 138 team points in Baraboo last night. Jordyn Laymon placed fourth for Baraboo behind three returning state gymnasts for Mount Horeb in the floor exercise, uneven bars and the all-around.
Wrestling: Mauston wins a dual 45-21 over Weston-Ithaca last night in a non-conference dual. The wins for Weston-Ithaca came from Hunter Dischler, Nick Bennett, Jake Carter, Cody Willis and Wyatt Gundlach with Mauston victories going to Spencer Davies, Justin Dolata and Jimmy Seeley but the Golden Eagles also get five forfeit wins.
River Valley 58-10 over the Platteville-Belmont coop last night in Platteville. River Valley gets five forfeit wins but the Bllackhawks also get match victories from Elijah Alt, Joe Crook, Jacob Heiser, Wyatt Schauf, Dustin Hatfield and Nate Jennings.