by Matz ~ December 17th, 2013. Filed under:
Matz on Sports
.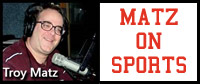 Boys Hockey: Baraboo-Portage hosts Reedsburg-Wisconsin Dells this evening as the Badger North boys hockey season continues. Both squads are 1-0 in league play with Baraboo-Portage a 9-0 winner over the Sauk-Prairie coop with RWD winning 8-0 Friday at De Forest. Baraboo's coop is 3-1 overall and they've allowed only two goals total in their three wins but they also have a 9-3 loss to state ranked Stevens Point on their ledger. RWD is 3-5 overall and they've faced a tough schedule including games against state ranked teams-Madison Edgewood and the Eau Claire Regis coop. Jordan Brown has seven goals and 11 points to lead RWD with Steven Mordini at eight goals and Tyler Laux with 13 points for Baraboo-Portage offensively. You can hear tonight's game live on 99.7 FM at 7:30 PM with Troy Matz and John Blosenski on the call from the Pierce Park Pavillion in Baraboo. Waunakee plays their first Badger North game of the season tonight against De Forest as well.
Girls Hockey: The Badger Thunder girls hockey coop hosts second ranked Onalaska tonight at RACA in Reedsburg at 7 PM. The Thunder got three-goal efforts from Kathryn Vander Schaaf and Courtney Sakry in a 14-1 drubbing of Viroqua Saturday and that puts them at 2-2 overall for the season. The Thunder though has lost Kristen South on defense to an injury. Onalaska has yet to lose this season.
Boys Basketball: Baraboo looks to snap a four-game losing skid in boys basketball tonight on the road at Ithaca High School. Baraboo played well Friday in a 55-52 loss at pre-season conference favorite Mount Horeb as Baraboo's offensive production continues to trend upward. Baraboo is 1-4 overall and they'll face an Ithaca team that is a member of the Ridge and Valley Conference with only about 100 students and the Bulldogs are 2-3 overall. Baraboo also welcomes in Monona Grove Friday night.
Reedsburg has only one blemish on their boys basketball slate as the Beavers host Mauston tonight. Reedsburg is 5-1 overall after a 41-33 win over Portage Friday and Reedsburg has allowed only one team-Tomah to score 40 points or more against them. Mauston had a talented Senior dominated team last year and that leaves the Golden Eagles with a young team this year that has started 0-6 overall. Reedsburg also hosts Sauk-Prairie in a key Badger North game Thursday.
Portage hosts Poynette tonight in a boys/g irls basketball doubleheader with the boys game at 7:30 PM. Portage is 2-4 on the season after a loss at Reedsburg Friday with their wins coming over Tomah and Beaver Dam. Poynette is 3-2 overall. The Portage girls are 1-3 overall going into their 5:50 PM game in Portage tonight vs Poynette.
Monday-Belleville 51-49 over River Valley as River Valley falls to 4-4 for the season.
Riverdale wins 54-46 over Weston as the Silver Eagles fall to 2-6 overall
Adams-Friendship 50-42 over New Lisbon
Kickapoo 68-63 over Wonewoc-Center
Girls Basketball: Sauk-Prairie is back on the home floor in girls basketball tonight as they welcome in Monroe tonight. Sauk has struggled with their ball-handling in opening their season with strong opposition-Waunakee and De Forest but the 0-2 Eagles are getting 16 points per game from Northern Illinois recruit Georgia Breunig.  Monroe comes in at 2-2 for the season.
Weston and Ithaca both are 1-1 in the Ridge and Valley in girls basketball and the two rivals meet tonight at Weston. The Weston girls and veteran coach Lauretta Pickel are 2-3 overall for the season.
River Valley is playing well at 4-2 in the high school girls basketball season with the Lady Blackhawks home to Fennimore. Only one River Valley opponent has gone above 40 points against them this year.
Monday-Hillsboro improves to 6-0 with a 30-25 win over Kickapoo behind 10 points from Macy Mislivicek with the Tigers allowing under 25 points per game.
Gymnastics: Baraboo hosts Mt Horeb tonight at 6:30 PM at the high school as the Badger North season begins. Baraboo placed 5th in the ten-team Baraboo Invite Saturday led by Jordyn Laymon's fifth place all-around finish. Sauk-Prairie was 8th at the Baraboo Invite Saturday and the Eagles go to Waunakee tonight for a Badger North dual.
Boys Swimming: Sauk-Prairie-Wisconsin Heights has a conference dual at Waunakee tonight at 6 PM. Sauk's coop got a pair of second place finishes from Bryan Frosch en route to a fifth place team finish at the Fort Atkinson Invite Saturday.
Wrestling: Weston-Ithaca has a non-conference dual on the schedule tonight at Mauston. W-I won four of five duals at Black Hawk Saturday with Mauston's Spencer Davies winning a title for Mauston as Saturday's Tomah Scramble.