by Matz ~ November 23rd, 2013. Filed under:
Matz on Sports
.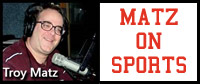 Baraboo coach Brian Bauer liked what he saw from his Thunderbird boys basketball squad in the pre-season and those feelings extended into the regular season as well as Baraboo was solid in an opening night win 56-45 over Wisconsin Dells in Baraboo last night. Baraboo started with a 7-0 run and although Wisconsin Dells hung close for awhile, they never got closer than five down over the final two and a half quarters. Baraboo was up six at the half and they went on a 10-0 run in the third quarter to take control. Baraboo shot 56% from the floor and 43% from three-point land and also outrebounded the Chiefs as well who fall to 1-1 overall. Dells struggled at the foul line and their three-point shooting struggled after making 12 shots from beyond the arc in their opening win over Black River Falls. Ty Schlichtmann scored 23 to lead the Thunderbirds with Matt Meyer adding 11 and Matt Munneke 10. Zach Van Wie scored 12 points and Nate Scott ten for the Chiefs. Baraboo goes to La Crosse Central Tuesday with Dells hosting Reedsburg.
Portage gets a 32-point explosion from Jordan Walker in a 61-47 opening night win over Tomah on Friday night. Portage led by ten at the halftime break and extended the lead in the second half and the Warriors were a perfect 17-17 from the foul line. Walker and Stian Anderson are the primary veterans in place this year for a young Portage squad and they both did the job with Anderson tallying 19 points himself and the two combined to make eight three-point goals.
De Forest rallied at Lake Geneva Badger but lost 64-61 in their season opener Friday. The Norskies scored 24 fourth quarter points and tied the score at 61-61 late but Badger scores the final three points. Brendan Lapp had 14 points and Jeff Berry and Jaden Sackman 13 apiece for De Forest.
Pre-season Badger North favorite Mount Horeb wins their opener 62-44 at Dodgeville with a 13-1 second period advantage key in the victory. Drew Frederickson and Isiah Lesure combined for 27 points for the Vikings.
River Valley trailed for most of the night and then watched Mineral Point pull away in the fourth quarter in a 62-44 win in Spring Green. River Valley was outscored 26-13 in the final period and Mineral Point was 24-33 at the foul line as well. Carson Stoddard had 13 points and Gale De Vita 11 for the Blackhawks in defeat.
Hillsboro gets to 2-0 to start the season with a 59-50 win Friday at La Farge behind 18 points from Max Stockwell.
Weston won just one game a year ago in high school boys basketball but the Silver Eagles open the season Friday with a 39-28 win at Cashton. Ramsey Arneson led a balanced Weston scoring attack with 12 points apiece.