by Matz ~ November 22nd, 2013. Filed under:
Matz on Sports
.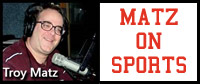 Four State football champions were crowned Thursday and three more will be today as the WIAA State football finals take place at Camp Randall Stadium in Madison. Black Hawk won their first State title in D-7 on Thursday with a 44-22 win over Glenwood City to complete a 14-0 season. Glenwood City was in the finals for a second straight year but failed to repeat as champion and they finish 12-2 overall.
Shiocton completes a 14-0 season with a D-6 State title as they dominate Darlington 35-0 on Thursday en route to their first State football championship. It was the second final in three years and the ninth overall for Darlington who finishes 12-2 for the season.
Stanley-Boyd edges Lancaster 21-16 to win the D-5 State championship. It's the third title for Stanley-Boyd but the first since 1995 as the Orioles finish 14-0 and Lancaster 13-1 and it was the 10th finals appearance as well for Lancaster.
Winneconne was 2-5 at one point this season but they end the season with seven straight wins and a State title in D-4 after getting by Platteville 28-14 last night for their first title in their first title game apperance. Platteville ends the season 9-5 but they reach the finals for the first time since 1983 despite just a third place finish in the SWC.
Badger South champion Monona Grove is 13-0 and will face 13-0 Greendale in the D-3 final today at 10 AM. MG is in the finals for the fourth time and are looking for theird third title with Greendale in the finals for just the second time and looking for their first championship.
D-2 also features a matchup of unbeatens as 13-0 Oshkosh North meets 13-0 Kimberly in a 1 PM kick-off. Oshkosh North is in the finals for a second time with a State title in that previous apperance with Kimberly looking for their third title in their fourth trip to the championship round.
Hartland Arrowhead is 12-1 and looking for a second straight D-1 championship and their 6th overall and they face 12-1 Franklin who won a title in D-2 in their only previous finals appearance.