by Matz ~ November 22nd, 2013. Filed under:
Matz on Sports
.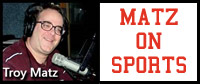 Baraboo kicks off their high school boys basketball season tonight on the home floor against the 1-0 Dells Chiefs. Brian Bauer enters his second season as head coach of the Thunderbirds and Baraboo looks to improve on a winless season in Badger North and a one-win season overall. Baraboo welcomes back all-league honorable mention guard Ty Schlichtmann with Garrett Getgen, Drake Coleman, Matt Meyer, Matt Munneke and Brody Bailey other contributors from last season back in the fold. A promising group of newcomers should make their mark also, giving coach Bauer plenty of options with several players competing for playing time. Ben Geenen, Taylor Hart, Collin Feld, Fischer Bailey, Nick Stack and 6'7 Freshman transfer Connor Weckerly also in the mix. There also are many new faces in the lineup at Wisconsin Dells but coach Brad Rohling's squad won 59-55 over Black River Falls Tuesday behind four players that scored nine points or more. Dez Morse and Dan O'Dea combined for 32 points and the Chiefs buried 12 three-point shots on opening night as well.
Portage welcomes in Tomah for their boys basketball season opener with a new era as Ron Olson takes over as head coach this season for the Warriors. Portage loses 1st team all-leaguer Daniel Beck, 2nd teamer Ian Taylor and honorable mention Matt Bare among others from last year's 10-14 squad and Adam Considine is again to miss this season as well with an ACL knee injury suffered again in the football season. Jordan Walker and Stian Anderson are the leaders for this year but the Warriors may be hard pressed to improve on their 5-7 Badger North record from a year ago.
River Valley hosts Mineral Point tonight in their boys opener with Luke Thatcher replacing Jeff Johnson as head coach. River Valley was second in the SWC laast year with 16 wins overall but gone from that team are second team all-conference players Carter Hoffman and Adam Mueller and Taylor Thering and Brandon Noble as all-league honorable mentions. Tayt Carraway and Gale De Vita are among the top veterans in place for this year.
Weston opens at Cashton tonight, looking to improve on a one-win season from last year. The majority of the players return including three Sophomores who saw extensive minutes as Freshmen last year. Mount Horeb at Dodgevile and De Forest at Lake Geneva Badger are among the other boys openers tonight.
Sauk-Prairie scored 30 points or more in each half and had three double figure scorers last night in a boys basketball season opening win 66-47 at Richland Center. Sauk had a plethora of offensive rebounds in the first half and three three-point goals in the second period helped the Eagles to a 36-30 halftime lead and the Eagles pulled away further in the second half in a solid first game performance. Sophomore Seth Kostrowski led the Eagles with 16 points followed by Tanner Leister with 15 and Jake Fiene scores 14 and Bailey Breunig nine for Sauk who will host Lodi Tuesday. Alex Mortimer had 28 points for Richland Center.
Lodi 70 Wautoma 31
Westfield 56 Plainfield Tri-County 52
Royall 59 Kickapoo 25
North Crawford 59 Wonewoc-Center 49