by Matz ~ November 21st, 2013. Filed under:
Matz on Sports
.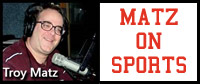 Two players from area conferences are All-State first team high school football players as announced by the WFCA this week with ten players from area leagues earning honorable mention All-State honors. De Forest Senior Brock Allen at inside linebacker and Wautoma defensive back Bryce Bennot are among the first team choices with Appleton Xavier QB Matt Ferris chosen as Offensive Player Of The Year and Mukwonago LB Dominic Cizauskas is Defensive Player Of The Year.
Honorable mention All-State selections include Senior outside LB Henry Bernhagen of Weston,Senior WR Isiah Lesure of Mount Horeb-Barneveld, Senior defensive lineman Will Peters and Junior DE Brett Saley from De Forest, Senior DE Tyler Janke and Senior inside linebacker Jay Kaenel from Westfield, Senior RB Colton Kukulka from Nekoosa, Senior DB Cullen Pederson from New Lisbon and Senior defensive lineman Austin Winters and  Senior Mike Corey at DE from Necedah. The WFCA Coach Of The Year will be announced next week after the State finals have been completed.