by Matz ~ November 15th, 2013. Filed under:
Matz on Sports
.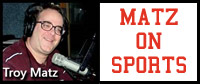 The Division Two portion of the WIAA State Girls Swim Meet is tonight at the UW Natitorium in Madison and our area will be represented. Baraboo sends seven swimmers to Madison, the most since 2008 for coach Lynn Keeling, and Junior Katie Coughlin enters tonight with a legit shot at winning two State individual titles. Coughlin has the second best time among all the competitors in the 100 Butterfly behind only defending State champ Rina Krupsky of Mc Farland and also the second best time of anyone in the 100 Backstroke field behind only Bridgette Alexander of Milton and Coughlin has closed the gap of late between her time and the top time in both events. Coughlin is also part of two State qualifying relays including the 200 medley relay which is seeded fourth and closing in on the school record as well. Joining Coughlin in that group is Senior Audra Riem, Senior Natalie Krug and Freshman Grace Deering. Baraboo's 400 Freestyle relay is also slotted among the upper half of the field at State with Freshman Sophia Oettinger, Sophomore Lara Riem and Senior Emma Grogan joining Coughlin in that group.
Sauk-Prairie has six swimmers competing tonight and three of them are constants in all three relays tonight. Junior Jordan Evans, Junior Erin Statz and Freshman Molly Schoepp all are involved in the 200 medley relay, 200 Free relay and 400 Free relay tonight with all three relays qualifying for State with the last possible berth from among the four Sectionals last week. Evans is also swimming tonight in the 500 Free as an individual. Other Sauk swimmers in one relay apiece include Sophomore Laken Murphy, Sophomore Darcy Kohn and Sophomore Olivia Chao.
Portage's Tara Schumdlach will swim for the first time at State tonight as the Senior competes in the 50 Freestyle. River Valley has eight swimmers in action tonight with Junior Molly Du Charme in the 50 Free, Sophomore Holly Du Charme in the 100 Free and Junior Jamie Ring in the 100 Breaststroke all competing individually while all three relay teams are at State too. The Du Charme sisters and Ring are joined by Sophomore Riley Knutson in the 200 medley relay with Junior Claire Kaukl, Junior Kelli Liegel and Junior Kaylee Wickman teaming up with Molly Du Charme in the 200 Free relay with the fifth best time and the Du Charme sisters, Kaukl and Sophomore Paige Westley comprising the 400 Free relay team. 6:30 PM is the start time for the D-2 competition tonight with D-1 action tomorrow afternoon.