by Matz ~ November 15th, 2013. Filed under:
Matz on Sports
.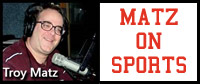 Coach Joe Marx completed his second season as the head man for the Sauk-Prairie Eagles football program and he has announced the team's awards for 2013. Sauk-Prairie improved to a record 0f 3-6 overall and a 2-4 Badger North record and averaged over 30 points per game on the season offensively and nearly 42 points per game during their five-game home slate. Junior Paul Zech won the Special Teams award with Zech, Senior Bailey Breunig and Junior Chris Chrisler sharing Offensive Player Of The Year honors. Bailey Breunig also wins the Defensive Player Of The Year and was named the winner of the Eagle award as well. Bailey Breunig was also a two-way all-conference second team choice in Badger North with Junior WR Zach Holler, Junior Offensive Guard Alex Wipperfurth and Paul Zech at Punter also second team selections. Paul Zech at QB, Chris Chrisler at RB, Austin Powell at RB, Zach Niemi on the Defensive Line, Gavin Halverson at Defensive Line, Zach Holler at DB and Jackson Breunig at DB were Eagles players on the all-conference honorable mention list.
13 of the 14 State high school football playoff semi-final games will be played tonight including a D-3 matchup at Baraboo High School featuring 10-2 La Crosse Logan vs 12-0 Monona Grove, the Badger South champions. Logan has knocked off Badger North teams in Reedsburg and Mount Horeb-Barneveld in the last two weeks and the Rangers are in the State semi-finals for the first time ever. MG is in the semi-finals for the first time since 2004 and they're giving up less than 70 yards per game rushing and less than ten points per game defensively. The Silver Eagles rallied to beat Waukesha Catholic Memorial last week. The WIAA State football finals are next Thursday and Friday at Camp Randall with Divisions 4-7 on Thursday and Divisions 1-3 on Friday.