by Matz ~ November 14th, 2013. Filed under:
Matz on Sports
.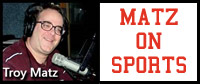 River Valley finished second to Lancaster in this 2013 Southwest Wisconsin Conference football season and the Blackhawks fill six spots on the first team all-league squad. Senior Zach Koch is a repeat two-way selection at offensive line and defensive line with Senior LB Joe Crook also a repeat choice for River Valley with other first team spots for the Blackhawks going to Junior LB Wyatt Schauf, Junior DB Alex Shifflet along with Senior Punter Max Ruhland. Area second team selections include Senior RB Jack Radlinger, Junior RB Wyatt Schauf, Junior WR Alex Shifflet, Senior WR Mitch Nachreiner, Senior Offensive Lineman Joe Crook, Senior Offensive Lineman Tim Kinney, Senior LB Max Ruhland, Sophomore DB Hunter Schwingle and Junior DB Lucas Price from River Valley and Senior WR ALex Mortimer of Richland Center. Honorable Mention nods went to Beau Solomon, Cole Eastlick and Derek Bodendein of River Valley and Ryley Cooper, Silas Coleman and Alex Perkins of Richland Center.
Nate Tranel of Lancaster is the Conference Offensive Player Of The Year, Andy Ryan of Lancaster is the Defensive Player Of The Year with Lancaster's Brock Snider Offensive Lineman Of The Year with Lancaster's Phil Zenz and River Valley's Zach Koch sharing Defensive Lineman Of The Year honors.