by Matz ~ November 6th, 2013. Filed under:
Matz on Sports
.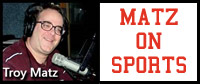 The Badger North's top football players for the 2013 season were recognized recently as the all-conference teams have been announced. Baraboo had no first team players selected in the 2013 season with Senior Offensive Tackle Brody Bailey earning second team honors for the Thunderbirds with several players named as honorable mention choices including Senior RB Brandon Ennis, Freshman WR Noah Larson, Junior Defensive Lineman David Gale, Senior LB Travis Parsons and Senior DB Mike Mc Reath.
Sauk-Prairie also had no first team selections but Senior Bailey Breunig is a two-way second team selection at LB and RB with Junior WR Zach Holler, Junior Guard Alex Wipperfurth and Junior Punter Paul Zech also on the second team. Eight Eagles players are all-league honorable mention selections including Junior QB Paul Zech, Junior RB Chris Chrisler, Sophomore RB Austin Powell, Junior Defensive Lineman Zach Niemi, Senior Defensive Lineman Gavin Halverson, Junior Defensive Back Zach Holler and Sophomore Defensive Back Jackson Breunig.
Reedsburg won their first ever outright Badger North football title this season and the Beavers fill five spots on the first team all-league unit-Junior RB Lucas Muchow, Senior Offensive Tackle Corey Pierce, who was named Offensive Lineman Of The Year, Senior DE Nate Runde, Sophomore LB Jacob Erbs and Senior DB Sam Peterson. Second team all-conference players for the Beavers included Junior QB Austin Schyvinck, Junior RB Dylan Peterson, Sophomore Offensive Guard Garrett Westerwelie, Senior Defensive Lineman Nate Bergman, Junior Defensive Lineman Cole Carrig, Senior LB Joe Acker and Senior Defensive Back Payton Sterkowitz. Reedsburg also had nine honorable mention selections in Junior Offensive Tackle Zach Clisch, Junior Center Adam Colvin, Senior Kicker and Punter Tyler Arneson, Senior RB Colton Seamons, Junior Defensive End Dustin Tourdot, Senior LB Dylan Klahn, Senior Defensive Back Steve Gavin and Junior Defensive Back Noah Geffert.
Portage suffered through a winless season in 2013 and the Warriors had no first or second team selections with Senior WR Jordan Walker, Senior Guard Zach La Vigne  and Senior DB Brett Lentz on the honorable mention list.
Mount Horeb-Barneveld is the only Badger North team still alive in the playoffs and Badger North's third place team filled four first team all-conference spots including a two-way selection in Senior Isiah Lesure at WR-DB, Sophomore Max Meylor at QB and Senior LB Carson Carmody. Waunakee's Troy Laufenberg is an all-league first teamer at RB and Punter with Luke Russell also a first team selection at Kicker. De Forest was the pre-season favorite to win the conference and wound up second behind Reedsburg and the Norskies fill 14 spots on the all-league first team, seven on each side of the ball. Defensive choices include Junior Defensive Lineman Brett Saley, Senior Defensive Lineman Jared Motiff and Will Peters, Senior LB's Brock Allen and Derrick Jennings along with Seniors Michael Horton and Jeff Berry at DB. Senior TE Bryce Bellefuille, Senior WR Jeff Berry, Senior RB Lucas Miller and four Offensive Lineman-Seniors Devin Yocum and Sam Georgeson and Sophomores Hunter Toppel and Connor Girten.
Isiah Lesure of Mount Horeb-Barneveld was chosen as Offensive Player Of The Year with Reedsburg's Corey Pierce Offensive Lineman Of The Year. Brock Allen of De Forest is the Defensive Player Of The Year with teammate Will Peters Defensive Lineman Of The Year in Badger North. Unanimous selections included Lucas Miller, Connor Girten, Sam Georgeson and Bryce Bellefeuille of De Forest, Isiah Lesure of Mount Horeb-Barneveld, Corey Pierce of Reedsburg and Troy Laufenberg of Waunakee on offense with Sam Peterson and Jacob Erbs of Reedsburg, Troy Laufenberg of Waunakee, Isiah Lesure of Mount Horeb-Barneveld and Michael Horton, Jeff Berry, Brock Allen, Will Peters and Brett Saley from De Forest with De Forest's Michael Horton the only repeat first team selection from last year.