by Matz ~ October 29th, 2013. Filed under:
Matz on Sports
.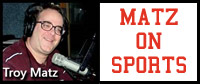 Reedsburg gets a second straight home game in D-3 in the state high school football playoffs as the 9-1 Beavers host 8-2 La Crosse Logan Friday at 7 PM at Millenium Field. Reedsburg routed Onalaska 54-7 while Logan won 34-13 over Evansville-Albany in level one. Mt Horeb-Barneveld from Badger North is also still alive in D-3 and after a 23-19 win over Madison Edgewood, the 7-3 Vikings play at 10-0 Lodi Friday night after Lodi stomped West Salem 45-7.
D-2 De Forest won 47-14 over Watertown in round one of the playoffs and now the 9-1 Norskies play 10-0 Oshkosh North Friday in a 5 PM game at UW-Oshkosh.
D-4 SCC champion Nekoosa puts a 9-1 record on the line at 7-3 Columbus Friday. Nekoosa rolled 58-6 over the Montello coop last week while Columbus won on the road 14-12 at Marshall. Wautoma from the SCC plays at Winneconne Friday at 7 PM with both teams 5-5 for the season after upset wins on the road last week. Wautoma nipped Omro 20-19 while Winneconne handled River Valley 28-6.
D-5 Westfield is the the third SCC team to win in round one and now the 7-3 Pioneers host 9-1 Racine St Catherine's Saturday night at 7 PM. Westfield won big 42-21 at Kenosha St Joseph's in their playoff opener.
D-6 Scenic Bluffs Conference co-champ Brookwood is 9-1 overall and they will host 8-2 Iowa-Grant Friday at 7 PM. Brookwood beat Riverdale in round one while Iowa-Grant blew out Necedah 47-0 in a shut-out win.
D-7 Scenic Bluffs co-champ New Lisbon gets another home game this Friday night as the 8-2 Rockets host 8-2 Loyal. New Lisbon won 32-6 over Blair-Taylor last week while held Hillsboro to just 58 yards of offense in a 23-6 win over the Tigers. North Crawford and De Soto were co-champs of the Ridge and Valley Conference and both have road games this week in Level Two with 9-1 North Crawford at 9-1 Potosi Friday night with 7-3 De Soto at 10-0 Black Hawk Friday night.