by Matz ~ October 21st, 2013. Filed under:
Matz on Sports
.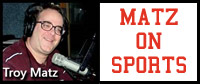 The 2013 State high school football playoffs begin this weekend with first round games in all seven divisions and the seedings and pairings are now set. In Division Three, Badger North outright champion Reedsburg is a two seed among the eight teams in Group C and the 8-1 Beavers will host 4-5 Onalaska Friday night at 7 PM with 6-3 Mount Horeb-Barneveld a four seed in that grouping and hosting 6-3 Madison Edgewood Friday night. 9-0 Lodi is the top seed and hosting West Salem and three seed La Crosse Logan hosts six seed Evansville-Albany. Badger South champion Monona Grove is a one seed in Group D in D-3 as well.
De Forest and Waunakee from Badger North are both in Group B in D-2 with De Forest as a four seed at 8-1 hosting five seed Watertown and Waunakee is a seven seed at 5-4 and they will play at 9-0 Holmen, a two seed. 9-0 Oshkosh North is the top seed in that group. Waunakee and DeForest both play Friday night.
River Valley is 6-3 this year and the Southwest Wisconsin Conference runner-up are a three seed in Group B in the D-4 field and the Blackhawks will host six seed Winneconne on Friday night. SCC champion Nekoosa and Wautoma from the SCC are also in this grouping with Nekoosa the top seed at 8-1 and hosting eight seed  Montello/Princeton/Green Lake Friday with Wautoma as a seven seed playing at two seed Omro Friday.
Westfield from the South-Central is in the D-5 field and they are seeded sixth in Group D with a first round matchup at Kenosh St Joe's Friday night.
Two Scenic Bluffs schools are part of Group C in the D-6 field with two seed Brookwood, the conference co-champs, hosting seven seed Riverdale with six seed Necedah at three seed Iowa-Grant. Darlington is the top seed in that grouping. Brookwood and Necedah both play Friday night games.
Weston is a playoff team in D-7 and the 7-2 Silver Eagles are the five seed in Group C and they play at four seed De Soto Friday night. Weston beat the Ridge and Valley co-champs 35-0 during the regular season. Two more Ridge and Valley Conference foes square off in another Friday game in this grouping with six seed Ithaca at three seed North Crawford, a conference co-champ. Hillsboro sneaks into the playoff field as one of the last qualifiers but they're in the post-season for a 12th straight year and the 5-4 Tigers are a six seed in Group B in D-7 and playing at three seed Loyal Friday night with another Scenic Bluffs school sneaking into the field as one of the last qualifiers-Bangor a five seed and at four seed Pittsville Friday night. New Lisbon was a Scenic Bluffs co-champ and the Rockets are also in Group B and as the two seed will host Blair-Taylor Friday night. All teams must win five games to win a State championship