by Matz ~ October 21st, 2013. Filed under:
Matz on Sports
.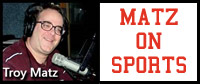 Cross Country: Baraboo's run of consecutive boys conference cross country titles ends at three but Baraboo Senior Marek Sokolowski is the boys individual champ with Sauk-Prairie's Senior standout Lianna Mack the girls champ Saturday at Wyona Park in Wyocena in the Badger North Meet at Portage's home course. Sokolowski adds to his many accolades with a conference title Saturday and his time of 16:31.18 was less than a second better than Kyle Cass of De Forest. Baraboo's Tyler Fiebig was the medalist last year. Baraboo had no other all-conference first team runners in the top eight but Joey Rausch and Ben Bildsten of Baraboo earn second team honors at 11 and 12 respectively as does Jackson Snow at number 16  and all of these  Baraboo runners along with Joe Brognano all had their best times of the year on Saturday. Sauk's Kyle Herbrand earns first team all-conference honors with a seventh place finish and Freshman Alex Bautista of Reedsburg is a second teamer, placing 13th to lead the Beavers. Portage's Jacob Hamm is a first team all-league runner after placing sixth with third place Noah Stamsta of Waunakee, fourth place Logan Steinhoff of Mount Horeb and fifth place Ryan Spahn of De Forest rounding out the first team along with Lucas Schult of Mount Horeb with Spahn and Sokolowski repeat first teamers. Waunakee edged Baraboo by three points, 58 to 61 to win the team title with De Forest a close third at 65 followed by Mount Horeb, Portage, Sauk-Prairie and Reedsburg in that order. Baraboo has been dominant all year at the JV level and that was on display Saturday as well as they filled 11 of the first 12 places with Aaron Benson the medalist.
Lianna Mack of Sauk-Prairie wins her first Badger North medalist title as the three-time all-conference first team performer and two-time State qualifier came in at 14:44.83, almost 36 full seconds ahead of runner-up Sara Viner of Mount Horeb. Freshman Ellie Recker placed tenth for Sauk to earn second team all-conference honors and Mikayla Lenz was in the top 20 as well. Baraboo's Isabel Schmelzer earns an all-conference spot at 15th overall on the second team with Alysa Zachow also in the top 25 for Baraboo. Demi De Block earns all-conference second team honors for Reedsburg with a 12th place finish and Lauren Tock also was 18th and Trina Miller of Portage grabs a first team all-conference spot with a sixth place finish. Other first teamers included Emily Royston and Kaitlyn Glagon at 3-4 for Waunakee and Renee Ault and Taylor Fox at five and seven for De Forest and Piper Altnip of Mount Horeb with Ault and Mack as repeat first team runners from a year ago. Waunakee easily wins the team title on the girls side with Mount H0reb 17 points back in second place with De Forest third followed by Sauk-Prairie, Reedsburg, Baraboo and Portage in that order.
The Mauston girls and Nekoosa boys win team titles at Saturday's SCC cross country meet in the Dells with Monica Jaled a first team all-league runner for Wisconsin Dells. Mauston easily wins another girls team title with Nekoosa a distant second followed in order by Adams, Dells, Westfield and Wautoma and Freshman Monica Jaled of Wisconsin Dells places 5th overall individually for all-conference first team honors with no one else in the top 20. Mauston had three of the top five runners including medalist Taylor Miller.
Nekoosa and Mauston placed 1-2 in the boys team standings with Westfield third, Dells fourth and then Wautoma and Adams. Brian Braun and Parker Campbell both earn second team all-conference honors for the Dells Chiefs, placing 11th and 13th overall with Dillon Frogg also in the top 20. Matt Eidenschink of Nekoosa was the boys medalist.
Girls Swimming: Sauk-Prairie places 6th among 12 schools at Saturday's Fort Atkinson Invite. Jordan Evans had seventh place finishes in the 200 Free and 500 Free with Olivia Chao in the 100 Free, Hannah Mack and Laken Murphy in the 100 Breaststroke, Molly Schoepp in the 100 Fly, Murphy in the 200 IM and all three relays all had top ten's as well for the Sauk squad. Sauk hosts Baraboo tomorrow night in Badger North.
Girls Tennis: Waunakee's doubles combo of sisters Tilly and Shelby Chorney wins the D-1 State Doubles title Saturday at the Nielsen Tennis Stadium with a three sets win over a team from Mequon Homestead. West Bend East freshman Lexi Keberle wins the D-1 Singles title with a 30-0 record with a win over two-time defending State champ Liz Konen of Homestead. In D-2, Wausau Newman's Grace Larrain wins the Singles championship and the Milwaukee University school tandem of Julie Veitinger and Taylor Benard win the Doubles crown at the WIAA State Tournament.