by Matz ~ October 19th, 2013. Filed under:
Matz on Sports
.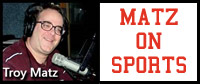 The WIAA Tournament trail begins in a few days in girls volleyball and all area squads now know their path as the brackets and seedings in all divisions have been finalized. Baraboo is the only school from our immediate area in Division One and the Thunderbirds draw a ten seed in the 15-team Sectional grouping and will play at seven seed Madison La Follette on Thursday October 24th in a first round matchup with the winner facing two seed Waunakee, the Badger North champs, or 15 seed Madison East in round two on Saturday October 26th. Other first round pairings have six seed La Crosse Central hosting 11 seed Madison Memorial, three seed Middleton hosting 14 seed Holmen, four seed De Forest hosting 13 seed La Crosse Logan, five seed Verona hosting 12 seed Madison West and eight seed Tomah hosts nine seed Monona Grove with Big Eight Conference champion getting a first round bye as the one seed.Thursday winners square off on Saturday the 26th in the Sectional quarter-finals.
Many area schools are in the same 15-team half-Sectional bracket in D-2 with first round matches starting Tuesday October 22nd. Edgewood is the one seed and they get a bye with two seed River Valley, the SWC champs, hosting 15 seed Viroqua. Platteville is the three seed and will host 14 seed Mauston with Lodi as the four seed hosting 13 seed Adams-Friendship. Portage has a five seed and will host 12 seed Richland Center on Tuesday with Reedsburg as a six seed hosting in the first round vs conference rival Mount Horeb. Wisconsin Dells won the South-Central Conference title again this fall and they are the seven seed in this grouping and will host ten seed Dodgeville with Sauk-Prairie hosting in round one as the eight seed vs nine seed Prairie Du Chien. Tuesday winners face off again on Thursday with Sectional quarter-final matches on Saturday the 26th.
Hillsboro is a one seed in their eight-team Regional in D-4 after another Scenic Bluffs Conference title and the Tigers host Weston, the last place team in the Ridge and Valley Conference, on Tuesday the 22nd with the other first round pairings in that Regional featuring four seed Royall hosting five seed Cashton, three seed Bangor hosts six seed New Lisbon and the two seed is Wonewoc-Center and hosting seven seed La Farge. Tuesday winners play again on Thursday with the Regional final on Saturday the 26th. WIAA Sectional matches in all divisions are October 31st and November 2nd with the WIAA State Tournament at the Resch Center in Green Bay November 7-9.