by Matz ~ October 19th, 2013. Filed under:
Matz on Sports
.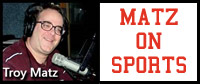 Cross Country: Wyona Park in Wyocena is the home course for the Portage Warriors cross country program and it is the site for today's 2013 Badger North Meet with the girls varsity at 9:30 AM and the boys varsity run at 10:10 AM. Baraboo's boys squad under the direction of long-time coach Peter Arndt has won three straight Badger North titles and with seven first place team showings in meets this year, they certainly again rate as a favorite today along with Waunakee who did beat out Baraboo in a recent event in Stoughton. Baraboo's Marek Sokolowski has been the top runner all season for the Thunderbirds but most of his teammates have also been regular top ten and top twenty runners in most of the meets as well. Ben Bildsten, Zach Solles, Joe Rausch, Jackson Snow, Joe Brognano, Tyler Fiebig, last year's Badger North medalist, and Dan Francis round out the Baraboo lineup. Sauk-Prairie has gotten several big time performances from Kyle Herbrand including three top ten's. Tom Alt, Ryan O'Neil, Furyk Kuri-Azamar, Aki Sakai and Seth Reardon are others in the Sauk lineup today. Reedsburg has a young boys team with Alex Bautista, Calvin Moon and Mike Harshbarger lead the way for the Beavers with Damon Gilbertson, Bailey Crary, Brandon Crolius, Matt Simacek and Chase Gillis comprising the rest of the Beavers lineup. Jacob Hamm of Portage is a good bet to finish high in the individual standings with Noah Stamsta of Waunakee and Ryan Spahn of De Forest also returning all-c0nference first teamers along with Fiebig and Sokolowski of Baraboo.
Baraboo's girls squad is a young group this year but Isabel Schmelzer has enjoyed a big second half to the season with some top ten finishes and Alex Schwarz is close behind. Baraboo's remaining roster for today includes Hannah Lee, Kelsey Judge, Alysa Zachow, Anica Flesch, Alex Le Roy and Paige Pawlak. Sauk-Prairie's Lianna Mack is perhaps the favorite to win the girls race today with two all-conference seasons and two State Meets already on her resume and Freshman Ellie Recker has had a great start to her career for the Sauk girls as well and rounding out the Eagles lineup is Ciara Beyer, Miklayla and Mac Kenzie Lenz, Elyse Breunig, Marissa Sprecher and Kayley Selden. The Reedsburg girls are hopeful of an upper division finish today with two team titles during the season but Katie Kast is out with a stress fracture in her leg. Reedsburg still has a strong nucleus with Lauren Tock, Demi De Block and Mogan Scnhyvinck at the top joined by Josie Bautch, Aysha Holtz, Ali Mundth and McKenzie Horzewski. FreshmanTrina Miller leads the Portage effort with Waunakee the heavy team favorite with Sam Slattery and Maggie Heieneman returning as all-league first team runners along with Renee Ault of De Forest and Maria Szalowski of Mount Horeb.
Wisconsin Dells hosts the 2013 South-Central Conference cross country meet which begins this morning. Freshman Monica Jaled leads the charge for the Dells girls with several top ten finishes during the season with Mauston's Taylor Miller the individual favorite with the state ranked Mauston girls the team favorite today as well. Brian Braun has been the lead runner fior the Dells boys and is hopeful of an all-conf first or second team spot today with the top seven runners earning first team accolades and the next seven second team. Mauston and Nekoosa are the boys team favorites.
Girls Swimming: Sauk-Prairie competes today at the Fort Atkinson Invite at 10 AM.  It's Sauk's 5th Invire or Relays event on the schedule this year with another next week at Platteville and the final dual is Tuesday at home with the Baraboo Thunderbirds. Jordan Evans has been the top individual performer for the Eagles this fall.
Dells Ducks Junior Hockey has the weekend off in the Minnesota Junior Hockey League but the Ducks are in first place with a 7-1 divisional record and they are 11-1 overall in this 2013-2014 season. The Ducks are also ranked fifth in the nation among all of the division three junior teams according to the latest "My Hockey Rankings" poll, the highest such ranking in the brief history of the Ducks franchise.