by Matz ~ October 19th, 2013. Filed under:
Matz on Sports
.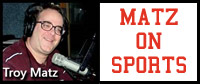 Badger North
Sauk-Prairie scores four second half touchdowns to win 43-15 over Baraboo at Sauk-Prairie High School with the victorious Eagles ending the season 3-6 overall and 2-4 in Badger North while Baraboo finishes 1-8 overall and 1-5 in the league with one win total for the second straight year. Both teams scored on their first posession with Baraboo getting a 42-yard TD pass from Tyler Brown to Drake Coleman on their third play from scrimmage and a Brown to Brandon Ennis 2-point conversion pass made but Sauk came back less than two minutes later with a touchdown of their own with a 32-yard pass from Paul Zech to Jackson Breunig setting up Breunig's 15-yard TD run but the conversion failed, leaving Baraboo up 8-6. Sauk-Prairie took a 14-8 lead in the final minute of the first half, completing a 45-yard drive on Paul Zech's one-yard QB sneak and his conversion run put the Eagkles up 14-8 at halftime. Sauk came out and established their ground game in the second half with over 200 yards rushing in the half and the Eagles put four scores on the board. Sauk-Prairie scored on their first three posessions of the half with Austin Powell racing nearly untouched on a 47-yard TD run, Chris Chrisler scored on a nine-yard TD run and Bailey Breunig scored on a five-yard run and Bailey scored again late for Sauk-Prairie to finish with 177 yards rushing with the Eagles just under 300 for the game. Baraboo got another big pass play for their only second half score with Brown connecting with Brandon Ennis for a 77-yard TD pass and run but it was not enough for the Thunderbirds despite 217 passing yards from Tyler Brown who threw for two scores and two interceptions.
Reedsburg is an outright Badger North football champion for the first time as the Beavers complete a 6-0 conference season with a 47-12 win at Portage as the 8-1 Beavers extend their winning streak to eight games. Reedsburg took control early and built a 35-0 halftime lead and cruised from there as Portage finishes 0-9 for the season, scoring just nine touchdowns on the season. Austin Schyvinck threw threee TD passes in the first half for the Beavers, two of them to Ryan Holtz, and finished 4 of 8 passing for 104 yards and he also had a TD run. Lucas Muchow, Colton Seamons and Andrew Schulenberg also had TD runs for Reedsburg who ran for 321 yards on the night. Portage;s offense was plagued by three turnovers but the Warriors did do some damage in the second half against the Reedsburg reserves and scored twice with nearly 200 yards rushing for the night. Reedsburg will host a first round playoff game next weekend in D-3 with the seedings and pairings to be announced during the day Saturday with Reedsburg joined in a grouping by Mount Horeb-Barneveld, Madison Edgewood, Lodi, Onalaska, La Crosse Logan, West Salem and Evansville. This is Reedsburg's first outright conference title since 1995.
De Foest 28 Waunakee 14- De Forest ends a 15-game regular season losing streak vs Waunakee and the Norskies finish second in the conference at 5-1 and they are 8-1 overall with Waunakee ending up 3-3 in the conference and 5-4 overall and both teams are in the same eight-team grouping in the D-2 playoffs. Lucas Miller runs for 293 yards on 44 carries to lead the De Forest offense with two touchdowns while Waunakee was held to just 38 yards rushing.
Non-Conference-Monona Grove 14 Mount Horeb-Barneveld 0 in a matchup of playoff bound teams as MG completes a 9-0 regular season with Mlount Horeb-Barneveld now 6-3 overall with two straight losses. Max Meylor throws for 185 yards in the loss but had only 58 yards rushing as the Vikings high powered offense was shut out for the second time this season. MG runs for over 300 yards in the game to stay unbeaten.
South-Central Conference
Nekoosa 35 Wisconsin Dells 26 as Wisconsin Dells falls short of the playoffs at 2-3 in the SCC but 5-4 overall and Nekoosa wins the conference title outright at 5-0 and the Papermakers are 8-1 overall. Dells trailed 13-6 at the break with PJ Flock scoring the Dells first half TD late on a one-yard TD run and each team scored in the third period with QB Nate Scott connecting with Ashton Mace on a 48-yard scoring pass for the Chiefs with Dells down 20-13 after three quarters. Both teams scored twice in the final period with Scott throwing a nine-yard TD pass to Mace and he had a three-yard scoring run himself but the Papermakers were able to stay one step ahead of the Chiefs to claim the win. Both teams ran for over 200 yards and Scott threw for 161 yards and the two scores for Wisconsin Dells but three turnovers hurt the Chiefs cause.
Adams-Friendship 18 Mauston 14 as Adams wins their first league game since the 2011 season and both teams end up 2-7 overall.
Westfield 34 Wautoma 13 as Westfield claims second place at 4-1 but both teams are headed to the playoffs.
Southwest Wisconsin Conference
Platteville 14 River Valley 7 as River Valley falls to a final league mark and they are 6-3 overall with Platteville earning a playoff trip with the win. River Valley fell behind 14-0 at the half and could not come all the way back as they continue on without all-league running back Jack Radlinger. River Valley had only 122 yards of total offense but they will play next weekend in the D-4 playoffs.
Lancaster 62 Richland Center 14 as Lancaster runs for 425 yards with nearly 500 yards total to complete an unbeaten regular season and the Hornets end up 1-8 overall and they had only 21 yards rushing for the night.
Ridge And Valley
Weston 69 Wauzeka 6 as Weston goes to 7-2 overall and they finish 4-2 in the conference, one game behind co-champs De Soto and North Crawford with De Soto upsetting North Crawford 31-28 Friday night.
Scenic Bluffs Conference
Hillsboro 53 Wonewoc-Center 16 as Hillsboro ends up 3-4 for the conference season and they are 5-4 overall but despite the losing conference record, the Tigers are one of seven teams less than .500 in their conference to sneak into the playoff field to fill out the 224-team grid based on tiebreakers including a win over a three-win conference team in Royall. Hillsboro will be in the D-7 playoffs. Wonewoc-Center goes winless for the season.
New Lisbon 14 Royall 0- New Lisbon shares the league title with Brookwood at 6-1 while Royall falls one game short of the playoffs for the second year in a row at 3-4 in the Bluffs.
Brookwood 40 Bangor 21 with Brookwood's win giving them a share of the league title at 6-1 while defending champ Bangor ends up 3-4 in conference and 5-4 overall but they also land one of the seven playoff spots going to teams with losing conference records.
Necedah 42 Cashton 26 as Necedah finishes strong to go 5-2 in league play with Cashton finishing 2-5 in the Bluffs.
De Forest and Waunakee from Badger North are in the D-2 playoffs and they are in the same eight-team grouping as well along with Fort Atkinson from Badger South, Holmen, La Crosse Central, Oshkosh North, Slinger and Watertown.
Reedsburg is in D-3 for the post-season and they are joined in their eight-team grouping by conference rival Mount Horeb-Barneveld, Madison Edgewood from Badger South along with Onalaska, La Crosse Logan, West Salem, Lodi and Evansville. Badger South champion Monona Grove is also in D-3 but in a seperate eight-team cluster.
River Valley is part of the D-4 playoff field and the Blackhawks are joined by Nekoosa and Wautoma from the South-Central along with Columbus, Marshall, Montello,Omro and Winneconne in their eight-team Regional. Westfield from the South-Central will be in the D-5 field.
Scenic Bluffs Conference reps Brookwood and Necedah are in the same eight-team grouping in D-6 and in D-7, Weston is joined in their eight-team Regional by three conference rivals-North Crawford, De Soto and Ithaca along with Belmont, Black Hawk, Cassville and Potosi. Hillsboro is in the playoffs for the 12th straight year and the Tigers are also in D-7 and in a Regional with conference rivals Bangor and New Lisbon along with Blair-Taylor, Cochrane-Fountain City, Independence-Gilmanton, Loyal and Pittsville.
Coaches meet during the day on Saturday within each eight-team grouping to determine the seeding, brackets and first round pairings with the playoffs beginning next weekend with games Friday night, Saturday or Saturday night. Teams must win five playoff games to win one of the seven State Championships.