by Matz ~ October 14th, 2013. Filed under:
Matz on Sports
.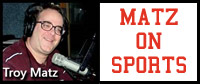 Girls Volleyball: Waunakee wins the Badger North tournament title on Saturday to go along with their dual meet title in the conference this year. Waunakee got a first round bye while Baraboo knocked off three seed Portage in their first match of the day 25-16 and 25-14 to advance to the winners bracket as did Sauk-Prairie with a 2-1 victory over Reedsburg and De Forest who beat Mt Horeb 2-0. Baraboo lost to De Forest in the next match 2-0 with Waunakee over Sauk 2-0 and Waunakee also beat De Forest 2-1 in the winners bracket. Waunakee went on to beat De Forest in the championship match 25-19 and 25-19 as those finish 1-2 overall as they did in the dual season. Reedsburg wound up third on Saturday with wins over Baraboo and Portage and a loss to De Forest after that first Sauk-Prairie loss and they finish third overall with Portage fourth on Saturday at 2-2 and fourth overall while Baraboo and Sauk-Prairie tie for fifth place Saturday with 1-2 records and Sauk winds up fifth in the overall standings, Baraboo 6th and Mount Horeb 7th. Baraboo hosts Madison Edgewood Tuesday, Reedsburg goes to Monona Grove Thursday and Portage hosts Plainfield Tri-County Thursday this week in non-conference action prior to WIAA Tournament openers next week.
Wisconsin Dells places 3rd at the 12-team La Crosse Logan Tournament on Saturday. In pool play to open the day, Dells went 2-0 vs Prescott and St Charles with a split in two sets vs West Salem to win their pool. Dells advanced to the semi-finals where they lost 2-0 vs West Salem but the Lady Chiefs came back to win the third place match 2-1 vs La Crosse Logan. Edith Nelson in kills and Alex Zapuchlak in assists were the stat leaders for Wisconsin Dells. Wisconsin Dells looks to wrap up another SCC title this week including a home match vs Wauzeka Tuesday night.
Cross Country: Baraboo's boys and Reedsburg girls win team titles at the Wisconsin Dells Invite Saturday in a field of seven schools. Baraboo easily outdistances the Nekoosa coop for the boys title with Reedsburg fourth, Adams fifth and Dells last in team scoring and Marek Sokolowski and Joey Rausch finished 4-5 overall for Baraboo and Baraboo also showed their balance with Ben Bildsten, Jackson Snow, Zach Solles and Dan Francis also placing sixth, seventh, ninth and tenth in the race as well. Alex Bautista was 12th overall, Mike Harshbarger 14th and Calvin Moon 15th for the Beavers and Brian Braun placed 21st for Wisconsin Dells to lead the Chiefs. Reedsburg wins the girls team title by edging Westby by 12 points for first place with Baraboo 3rd, Adams 4th and Wisconsin Dells 6th in team scoring. Isabel Schmelzer placed 6th to lead Baraboo with good support from Alex Schwarz and Alyssa Zachzow in the 11 and 12 spots and Erica Judge was 18th overall. Reedsburg got a pair of top five finishes with Loren Tock placing 3rd and Demi De Block 4th and Morgan Schyvinck also snuck into the top ten and Freshman Monica Jaled continues her great season for the Wisconsin Dells girls with a second place finish on Saturday. Portage hosts the Badger North Meet on Saturday with Wisconsin Dells hosting the SCC Meet on Saturday. Portage's high school cross country teams run at Columbus today.
River Valley wins the girls team title at Saturday's Riverdale Cross Country Invite, beating out seven other schools with Abby Miller placing fifth to lead the Blackhawks individually while Alec Bass of River Valley was the boys medalist Saturday with River Valley 3rd in the bys team scoring with Wisconsin Heights/Barneveld the boys team champion. River Valley runs Thursday at the SWC Meet in Platteville.
Girls Swimming: Baraboo put forth perhaps their best team performance of the swim season on Saturday with a team title at the Waunakee Invite, beating out Monona Grove and River Valley for the title in a nine-school field. Baraboo swimmers won two individual events with Katie Coughlin taking first in the 100 Butterfly with a second in the 100 Free as well and Audra Riem also claimed first place in the 100 Breaststroke. Baraboo had three relay teams win titles on Saturday also with Coughlin, Audra Riem, Natalie Krug and Grace Deering comprising a first place 100-yard medley relay with Sophia Oettinger joining Coughlin, Riem and Krug  with the 200-yard medley relay and Baraboo's other first was the 300 Freestyle relay team of Oettinger, Grace Deering, Lara Riem and Emma Grogan. Baraboo now has won three team titles in relay events or invitationals this season and they'll host a strong River Valley team in a dual meet on Tuesday night at 6 PM.
UW-Baraboo Sauk County advances in the Wisconsin Collegiate Conference soccer playoffs Saturday with a road win 3-0 at UW-Rock County. The Fighting Spirits scored all three goals in the first half with Jesse Greenwood scoring two goals on direct kicks and Josh De Block tallied the other with goalie Colin Scanlon making six saves in net for the shutout win. UW-Baraboo Sauk County will play again on the road this week in the semi-finals of the WCC playoffs.
Dells Ducks Junior Hockey wins two of three games on the road over the weekend in the Minnesota Junior Hockey League with a Sunday loss at Hudson their first of the season. The Ducks won Friday 4-2 over the Minnesota Owls behind three goals from Ian Wood and the Ducks won again Saturday 10-2 with Wood scoring three more goals and Yari Neitenbach added two more before the Ducks suffer their first loss Sunday 4-3 at Hudson. The Ducks are 7-1 in the division and 11-1 overall and will enjoy an off week this weekend.
The Tri-City Bulldogs lost 67-0 at Sheboygan County Saturday in the Wisconsin State Football League to finish 1-9 for the season. The Bulldogs scored just six touchdowns for the season and allowed 47 points per game on the season defensively.