by Matz ~ October 12th, 2013. Filed under:
Matz on Sports
.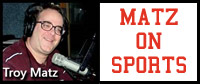 Girls Volleyball: Waunakee hosts the first ever Badger North girls volleyball tournament beginning at 9 AM Saturday morning. Waunakee won the dual meet title at 6-0 followed by 5-1 De Forest with Reedsburg and Portage both 3-3 with Sauk-Prairie 2-4 and Baraboo and Mount Horeb were both 1-5 and points earned Saturday based on the order of finish combined with points earned for each dual match win helps determine the overall conference standings. Saturday's format is double elimination. Madison Edgewood, the Badger South dual champ, hosts the Badger South volleyball tournament on this Saturday as well.
SCC leader Wisconsin Dells faces some good competition today in a prep girls volleyball tourney at La Crosse Logan High School. Dells was extended to five sets in their conference win over Mauston with Hunter Hickey, Alex Zapuchlak and Edith Nelson leading the way. River Valley is playing today at the Oconto Falls Invite.
Cross Country: Baraboo and Reedsburg are among the visiting schools for today's Wisconsin Dells Cross Country Invite. Baraboo's boys team has won six full team titles this year but placed seventh in a strong field at Stoughton last Saturday. Marek Sokolowski and Isabel Schmelzer have been consistently the lead runners for the Thunderbirds. Reedsburg has had several different runners first in for their meets this year while Freshman Monica Jaled has had a big season for the Dells girls with four other schools also in today's field including Adams and Westfield.
Sauk-Prairie's Lianna Mack will be one of the top girls runners today at the Wisconsin Rapids Invite with Kyle Herbrand turning in strong times all year for the Eagle boys. River Valley runs today at the Riverdale Invite in Muscoda.
Girls Swimming: Baraboo and River Valley swim at the Waunakee Invite today with a start time of 11 AM. Baraboo swept all of the first's in a lopsided dual win over Lodi earlier in the week with Audra Riem and Katie Coughlin each winning two individual events. River Valley has the look of one of the top programs in Badger North this year.
UW-Baraboo Sauk County co-ed soccer plays at UW-Rock County today in round one of the WCC playoffs and the UW-Baraboo Sauk County womens volleyball team also plays this weekend in the WCC Tournament being held at Just A Game Fideldhouse in Wisconsin Dells.
Dells Ducks Junior Hockey is on the road this weekend at Isanti Minnesota for two games and one at Hudson. The Ducks are now 6-0 in the division and 10-0 overall with a 4-2 win against the Minnesota Owls at Isanti Friday night with a game there tonight at 7:30 PM and a 6 PM game at Hudson Sunday.
The 1-8 Tri-City Bulldogs, the local entry in the Wisconsin State Football League, plays at Sheboygan County at 6 PM tonight.