by Matz ~ October 12th, 2013. Filed under:
Matz on Sports
.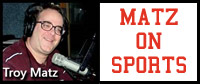 Badger North
De Forest 24 Baraboo 6-Baraboo falls to 1-7 overall with their fifth straight loss and the Thunderbirds are now 1-4 in conference play. It was no doubt Baraboo's best defensive effort of the year with De Forest gaining only 155 yards rushing but Baraboo ran for only three yards all night and QB's Tony Spink and Tyler Brown combined to throw for 244 yards on 22-46 pass attempts. Baraboo got inside the Norskies ten-yard line early after a fumble but could not score and that was Baraboo's only serious offensive threat until the fourth quarter. TD runs from Lucas Miller and Brendan Lapp had De Forest up 14-0 at half and Lapp scored again in the third period and the Norskies went on to claim victory to go 4-1 in league play, good for second place, and 7-1 overall with Lapp throwing for 155 yards. Tyler Brown came on for an injured Tony Spink at QB in the third period and did get the Thunderbirds on the board in the fourth quarter on a TD pass to Drake Coleman but it was too little too late. Baraboo goes to Sauk-Prairie next week to wrap up the regular season.
Reedsburg 42 Mount Horeb-Barneveld 26-Reedsburg is on the verge of their first ever outright Badger North football title, improving to 5-0 in the conference and 7-1 overall with an exciting 42-26 win over Mount Horeb-Barneveld. Reedsburg ran for over 400 yards for the second week in a row with Lucas Muchow running for 195 yards and three scores including a 60-yarder early in the third period and Dylan Peterson runs for 140 yards an d a TD himself and fullback Colton Seamons scored twice as well. Reedsburg led 21-14 at the half and they scored three more times in the second half and the Beavers have already clinched a share of the title and will be heavily favored next week at winless Portage. The Vikings ran for only 22 yards against a stout Beavers front seven but QB Max Meylor kept the Vikings in the game with a 20 of 33 passing effort for 383 yards and three TD's, giving him three games of over 350 yards on the season. North Dakota State recruit Isiah Lesure caught six balls for 143 yards and two scores for Mount Horeb-Barneveld who falls to 6-2 overall and they end up 4-2 for the conference season.
Waunakee 54 Portage 0-Portage is shut out for the fourth straight week as they fall to 0-8 on the season and 0-5 in league play while Waunakee becomes playoff eligible with the win and they should be a post-season participant at 3-2 now in league play and 5-3 overall. Waunakee built a 42-0 halftime lead with Troy Laufenberg running for 176 yards on the night and he had four scoring runs in the second period alone and QB Mark Herzberg was 7 of 9 passing for 160 yards as well as Waunakee amassed a season high 541 yards of offense compared to only 130 for Portage.
Non-Conference
Madison Edgewood 56 Sauk-Prairie 50 4 OT's-It is believed to be a first ever four overtime game for Sauk's program and the Eagles suffer their second OT loss at home this season. Edgewood led 20-14 at the half thanks in part to Jake Dragoo FG's with Bailey Breunig's TD run and a Paul Zech to Austin Lins TD pass accounting for the Sauk scores. The Eagles fell behind 27-14 early in the second half but rallied back with three second half scores on another Zech to Lins TD pass and TD runs from Zech and a 63-yard scoring burst from Austin Powell. Dragoo's 19-yard field goal though with four seconds left forced OT. Both teams scored TD's on the first series including a 23-yard run for Bailey Breunig for Sauk but both PAT kicks were missed. Both teams came up empty in the second session with Dragoo missing a 33-yard FG for Edgewood. Both teams scored in OT number three with Powell scoring from 25 yards out for the Eagles and the two-point run was good for Bailey making it a 50-50 score but Edgewood wins it in the fourth OT on Bobby Dunn's fourth TD pass of the night on a 25-yard strike to Bryce Haefer. Sauk ran for 357 yards on the night with Austin Powell running for over 160 yards on just nine carries and two touchdowns and Bailey Breunig also ran for over 100 yards while Edgewood QB Bobby Dunn throws for 305 yards and the four TD's and both teams had over 400 yards of offense in a game that also featured 19 penalties and tok over three and a half hours to complete. Sauk is now 2-6 overall and they close out the league season at home with Baraboo next week with Edgewood now 6-2 on the season overall.
South-Central Conference
Wautoma 20 Wisconsin Dells 14-Wautoma clinches a playoff spot with the win to go 3-1 in the SCC with Dells now 2-2 in league play and they must win at home over Nekoosa next week to reach the post-season. Dells led this game 14-8 after three quarters on a pair of Nate Scott to Dez Morse TD passes with the Chiefs defense forcing three turnovers before Wautoma scored two fourth quarter touchdowns including the game-winner on a 36-yard pass late from Johnny Eagan. Both QB's threw for over 100 yards with Bryce Bennot running for 177 as well as Wautoma took advantage of a 239-90 edge in rushing.
Westfield 44 Mauston 6 with Westfield clinching a playoff berth at 3-1 in the SCC with Mauston still winless in conference.
Nekoosa 52 Adams-Friendship 20 as Nekoosa clinches a share of the title and they lead the conference at 4-0 after the win against 0-4 Adams.
Southwest Wisconsin Conference
River Valley 49 Dodgeville 27-River Valley is 6-1 in the SWC after posting their second win over Dodgeville this year. River Valley runs for a season high 478 yards with three backs all over 100 including a 252-yard performance from Alex Schwingle. River Valley is second behind Lancaster in the SWC standings.
Prairie Du Chien 35 Richland Center 21-First win of the season for Prairie Du Chien
Scenic Bluffs Conference
Brookwood 21 Hillsboro 15-Hillsboro's 11-year run of consecutive playoff appearances comes to an end as the Tigers fall to 2-4 in league play with three of those losses by a touchdown or less and Brookwood is 5-1 in the Bluffs.
Bangior 57 Wonewoc-Center 12-Bangor keeps their playoff hopes alive in the Bluffs at 3-3 in league play while Wonewoc remains winless.
Royall 24 Cashton 14-Royall is 3-3 in conference and a win over New Lisbon next week would give them their first post-season berth since 2002.
Necedah 21 New Lisbon 14-Necedah clinches a playoff berth with the win and New Lisbon suffers their first conference loss and now share the league lead with Brookwood at 5-1.