by Matz ~ October 11th, 2013. Filed under:
Matz on Sports
.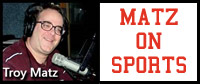 Girls Volleyball: Badger North-Baraboo completes the conference dual match season at 1-5 after a 3-0 loss to Waunakee last night as Waunakee navigates through the dual match schedule unbeaten in Badger North. Waunakee wins the match 25-19, 25-17 and 25-18 with Jamie Jensen's 19 assists and ten digs each from Kathryn Vander Schaaf and Bethani Delmore leading the way statistically for the Thunderbirds and Amy Krysinski had 27 assists for Waunakee. The first ever Badger North girls volleyball tournament is Saturday in Waunakee with Baraboo the six seed in the seven-team event and Waunakee the one seed, getting a bye in round one.
Portage finishes among the top four in the Badger North dual standings at 3-3 after a 3-1 win over Sauk-Prairie last night. Portage wins the match 25-17, 25-18, 17-25 and 25-22 as Sauk ends up 2-4 for the conference dual season. Carly Steinhaus had 13 kills and Emily Kibby 17 assists for Portage and for the Eagles, Taylor Buschke had 11 kills and Sierra Suchla 36 digs and the Eagles will have the five seed tomorrow in the conference tourney while Portage will be three or four.
Reedsburg finishes the conference dual season at 3-3 after a 25-15, 25-20 and 25-17 win over 0-6 Mount Horeb last night in the conference finale. Lynsey Ragenoski again leads the Beavers in kills with 15 and Kali Burmester records 29 assists. The Beavers will be seeded three or four tomorrow and Mount Horeb seven for the conference tourney with points earned tomorrow combined with points earned for each dual match win helping determine the overall final conference standings.
South-Central Conference-Mauston gave first place Wisconsin Dells a scare last night in SCC volleyball with Dells eventually winning in five sets, rallying from 2-1 down to gain the victory to go 8-0 in league play. Dells wins 25-27, 25-12, 23-25, 25-15 and 15-2 in the final set with Edith Nelson recording 11 kills and four aces while Alex Zapuchlak had 23 assists and four aces for the Lady Chiefs who play in a La Crosse Logan tournament tomorrow.
Boys Soccer: Baraboo and Poynette-Portage play to a 2-2 tie in the regular season finale at Beryl Newman Field. Ben Pucel's goal gave the United a 1-0 lead early but Baraboo tied the score before half on Tyler Vorndran's goal on a lofting shot from outside the goal box. Kyle Tomlinson's goal with less than 19 minutes gave Poynette-Portage another lead but Baraboo salvages the tie in the final three minutes on a deflected goal off the foot of Doug Mc Donald. Baraboo had an 8-3 edge in shots on net but the tie leaves them at 9-6-3 going into the post-season which begins Tuesday at Waunakee where the T-Birds won 3-2 a few weeks ago. Poynette-Portage opens the post-season at De Forest Tuesday.
Wisconsin Dells loses 4-1 to Belleville-Sugar River in a Capitol Conference make-up on Thursday with Derek Maniak scoring the lone goal for the Chiefs who finish 2-7 in conference play. The Chiefs face Madison Edgewood in Verona Tuesday in their WIAA Tournament opener.
River Valley 0 Prairie Du Chien 0 in the SWC
WIAA Sectional Girls Tennis: Baraboo's doubles team of Senior Sabrina Fuller and Junior Hannah Shumway lost their first match at one doubles Thursday at the D-1 Sectional in Madison. The Madison West team of Anna Pearson and Sydney Rozenfeld won 7-5, 6-3 over the Baraboo tandem as Shumway and Fuller finish the season 7-2 as a doubles combo. The Madison West team qualified for State with a second place finish behind Tilly and Shelby Chorney of Waunakee who ended the season for the Reedsburg team of Emma and Laine Greenwood earlier in the day 6-0, 6-0 as the Greenwood girls end up 13-7 for the season.
Cross Country: Baraboo's teams were to compete today at a meet hosted by Wisconsin Lutheran but will now instead run tomorrow in the Wisconsin Dells Invite.