by Matz ~ October 11th, 2013. Filed under:
Matz on Sports
.
Badger North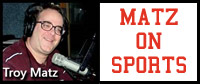 De Forest comes to Baraboo's Beryl Newman Field for the final home game for the Thunderbirds on Homecoming Week. Baraboo lost their fourth straight game last week 31-6 at Waunakee with Baraboo showing an improved defensive effort but could not generate much offense with juast over 200 yards and several plays of negative yardage which put the offense in a tough down and distance much of the night. Baraboo is scoring a respectable 17 points per game and Brandon Ennis has three 100-yard rush games and Tony Spink has three 100-yard pass games. Baraboo is giving up over 37 points per game and they're allowing 270 yards rushing per game as well. De Forest enters play tonight at 6-1 overall and 3-1 in the conference after crushing Sauk-Prairie 54-15 last week as Lucas Miller ran for 230 yards and three TD's in a performance that produced over 450 yards of total offense. The Norskies calling card though is defense with eight starters and four all-league players back from a group that may have been the league's best last year and De Forest is allowing less than nine points per game with two shutouts. Pre-game coverage is around 6:45 PM tonight with Dave Helwig and Travis Zick on 99.7 FM with a 7 PM kick-off and you can watch the TV replay Saturday morning following a special Baraboo High School Homecoming 2013 show  that begins at 8 AM on My Family TV/43!
Reedsburg hosts Mount Horeb-Barneveld tonight in their final home game of the regular season and both teams have Badger North title aspirations. Reedsburg leads the conference at 4-0 and if they win tonight and next week against a struggling Portage program, they will win their first ever outright Badger North championship but even with  just one in the final two games, they'll get a share of the title, something they accomplished in their State title season of 2009. The Beavers are 6-1 overall with six straight wins and they routed Milton 48-19 last week with over 400 yards rushing, a season high. The Reedsburg defense has really come on as well, giving up less than 14 points per game. Mount Horeb-Barneveld is also 6-1 overall and they are 4-1 in Badger North with only a loss to De Forest and the Vikings clinch at least a share of the Badger North title if they win this evening with this being their final league game. The Vikings have another potent offense this year with QB Max Meylor throwing for over 1300 yards and they have run the ball well too with Meylor and Wyatt Thompson leading the way there with Mount Horeb-Barneveld scoring over 37 points per game. Despite their 6-1 record however, the defense has struggled most weeks, allowing over 200 yards rushing per game and giving up about 22 points per game. It's the biggest game of the conference season at Millenium Field tonight at 7 PM.
Portage is winless in the 2013 football season and they go to Waunakee tonight who will likely clinch yet another playoff berth with a victory. Portage is coming off a 42-0 loss to Mount Horeb-Barneveld last week that puts the Warriors at 0-4 in the conference and 0-7 overall with Portage giving up over 42 points per game on the season while the offense has been limited with a rash of injuries throughout the season, especially at the QB position. Waunakee is 2-2 in the league and 4-3 overall and coming off a 31-6 win over Baraboo and they'll be in the playoff field again if they win tonight with De Forest still on the schedule next week.
Non-Conference
Sauk-Prairie hosts Madison Edgewood tonight in the final non-league game of the season. Sauk was trounced by De Forest 54-15 last week, giving up eight touchdowns and over 460 yards of offense in the process with the Eagles defense now allowing over 30 points per game. The loss also officially knocked the Eagles out of playoff contention with a 1-4 league mark and they are now 2-5 overall. Edgewood is 5-2 on the season and still in contention for a piece of the Badger South title at 4-1 and the Crusaders are led by a strong offense with QB Bobby Dunn throwing for over 170 yards per game and he is also the leading rusher for the Crusaders who do have four returning all-league players on the roster from last year's playoff qualifier. Watch the game live on the Sauk-Prairie Eagle Sports Network at 7 PM with Troy Matz and former Eagle Tyler Zeman on the call.
South-Central Conference
Wautoma visits Wisconsin Dells tonight and the winner earns a trip to the playoffs with both teams coming in at 2-1 in league play. Dells fell behind on the road at Mauston 14-0 early last week but battled back from that sluggish start to escape with a 21-20 win as Josh Johnson's three extra point kicks proved to be huge. QB Nate Scott continues to lead the Dells Chiefs in passing and running , second in the conference in both categories, and his two TD runs and 209 yards on the ground were pivotal last week with the Chiefs 2-1 in league play and 5-2 overall. Wautoma is also 2-1 in the conference and coming off a 34-13 loss at Nekoosa and the Hornets are 3-4 overall after playing a tough non-conference slate. Wautoma features the league's leading passer in Jack Eagan with about 850 yards passing. The winner is into the post-season with a guaranteed league record of at least 3-2 while the losing team would have to win next week to qualify.
0-3 Mauston at 2-1 Westfield with Westfield clinching a playoff spot if they can win
0-3 Adams-Friendship at 3-0 Nekoosa with the Papermakers having already clinched a post-season berth.
Southwest Wisconsin Conference
Dodgeville plays at River Valley tonight with River Valley 5-1 in league play and hoping for a Lancaster stumble in the final two weeks to gain a share of the conference title if they win out. River Valley beat Dodgeville 37-17 in the first meeting and it's a big game for 3-3 Dodgeville who needs one more win to gain a possible playoff spot. River Valley is 5-2 overall.
1-5 Richland Center at 0-6 Prairie Du Chien
Scenic Bluffs Conference
2-3 Hillsboro at 4-1 Brookwood-Hillsboro must win this game and next week vs Wonewoc-Center or their 11-year run of consecutive playoff berths will end. Brookwood has already qualified for the post-season.
0-5 Wonewoc-Center at 2-3 Bangor
2-3 Royall at 2-3 Cashton with both teams needing to win out to reach the post-season
3-2 Necedah at 5-0 New Lisbon, the conference leader
Ridge and Valley Conference
Weston will improve to 3-2 in the Ridge and Valley and secure a playoff spot this week with a forfeit win over Seneca who is not fielding a Varsity team this fall due to low numbers. Weston is now 6-2 overall