by Matz ~ October 7th, 2013. Filed under:
Matz on Sports
.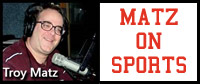 Cross Country: Baraboo finishes seventh on the boys side and 14th on the girls side at the Stoughton Invite Saturday. The T-Bird boys had won four straight meets coming in but schools such as Stevens Point, Verona and Madison La Follette beat out Baraboo with those three strong programs finishing 1-2-3 in the team standings. Marek Sokolwoski was Baraboo's lone medal winner at 16th place overall with Ben Bildsten next in for Baraboo at number 30. Alec Bass of River Valley placed 17th overall. The girls beat out only River Valley in team scoring but Isabel Schmelzer placed 27th individually. Baraboo runs in the Wisconsin Dells Invite Saturday.
Lianna Mack of Sauk-Prairie was second overall in the girls race for the large schools at the prep cross country meet Saturday at UW-Platteville with Monica Jaled recording a top 20 finish for the Wisconsin Dells girls and Kyle Herbrand logged a top twenty boys finish for Sauk-Prairie as well at UW-Platteville
Boys Soccer: Baraboo wins 3-1 over Tomah at Beryl Newman Field Saturday to go 8-6-2 overall. Tomah took a 1-0 lead 18 minutes in but Tyler Laux tied the score ten minutes later on a free kick and it was 1-1 at halftime. Baraboo took a lead early in the second half on Tyler Vorndran's goal assisted by Laux and Garrett Getgen added an insurance goal a short time later and Baraboo wins it 3-1 with goalkeeper Heath Eisen making only one save. Baraboo closes out the Badger North season tomorrow night at home with Sauk-Prairie.
Reedsburg is 7-8-1 overall in boys soccer with a home match today vs Richland Center at 5 PM. Reedsburg beat Mauston 2-1 on Thursday. Poynette-Portage plays a non-conference match at Montello today as well.
Girls Volleyball: Reedsburg won five of six sets to win their pool at the Reedsburg Invite before the Beavers lose to Madison West in the Gold Bracket. Reedsburg won 2-0 over La Farge and 2-0 over Fort Atkinson while splitting two sets vs Sparta to go 5-1 in Pool C to take first place but Madison West wins 25-22 and 25-23 over Reedsburg in the Gold bracket or winners bracket match. Lynsey Ragenoski and Anna Pawlisch combined for 50 kills to lead the Beavers with Kali Burmester recording 72 assists and six aces and Mikayla Klemm had 31 digs on the day and Brittany Shyvinck 28. Oregon downed Cuba City in the Gold bracket final and Fall River wins over Sparta in the Silver bracket final. The Beavers go to Monroe tomorrow.
Sauk-Prairie was unable to win a match in  pool play at Saturday's Lodi Volleyball Invite as the Eagles went 0-3 to start the day against Mc Farland, Fond Du Lac and Kettle  Moraine but then beat Edgerton and Richland Center in the consolation bracket to finish 5th place overall. Sauk meets Portage Thursday before the first ever Badger North girls volleyball tournament Saturday in Waunakee.
Girls Swimming: Sauk-Prairie places 9th among 14 schools at Saturday's Fond Du Lac Invite with Jordan Evans earning a top three finish in the 500 Free with a third place effort. Sauk hosts Waunakee tomorrow night.
Monday-WIAA Tournament play begins today for area high school girls tennis teams with Baraboo, Reedsburg and Portage part of an eight-team D-1 Sub-Sectional at RAHS at 10 AM. Baraboo placed second in the Badger North this fall and coach Karl Kruse switches the lineup for post-season play with Hannah Shumway and Sabrina Fuller moving from one and two singles to number one doubles with the normal number one combo of Kelli Kuschman and Kaylee Roberts moving down to two doubles with Liz Schnee and Alyssa Lee leading the singles lineup. Reedsburg has strong doubles teams with Emma and Laine Greenwood looking to at least repeat as Sectional qualifiers. Sauk-Prairie joins De Forest and Waunakee in a Sub-Sectional in D-1 today at Nielsen Tennis Stadium with Georgia Breunig and Laura Soter at one doubles leading the charge for the Eagles. Wisconsin Dells will be one of nine schools at a D-2 Sub-Sectional in girls tennis at Sparta today with Hannah Van Genderen and Niocole Kolano at one doubles the top hopeful. The top four in flight one singles and doubles and the top two in the other flights in all of the Sub-Sectionals move on from today's round to the WIAA Sectionals on Thursday.
Monday-Portage High School girls golf has their full team in action today at Odana Hills in Madison for a D-1 Sectional meet. Portage, the Badger North champions, placed fourth in the Regional last week to advance to today's round with Emily Grunder and Jayde Curley the top hopefuls individually for Portage with Big Eight Conference champion Middleton, Verona and Badger South champion Stoughton among the top teams in contention today. The top two teams and top three individuals outside those teams advance to next week's State Tournament. Wisconsin Dells is at the D-2 Sectional in Madison tomorrow.
Dells Ducks Junior Hockey is now 9-0- for the season and 5-0 in their division of the Minnesota Junior Hockey League after winning three games in three days this weekend over Maple Grove at the Poppy Waterman Arena in the Dells. The Ducks won 5-2 Friday, 4-3 on Saturday and 4-0 on Sunday with Robert Meadows making 18 saves in net in the Friday win and Joey Bower had two goals and Mike Ambrose made 19 saves for the shutout in the Sunday win. The Ducks play two games at Isanti, Minnesota and one at Hudson this weekend as the MNJHL schedule continues.
Tri-City Bulldogs fall to 1-8 in the Wisconsin State Football League season after a 39-0 loss to Manitowoc County Saturday. The Bulldogs play at Sheboygan County this Saturday.