by Matz ~ October 5th, 2013. Filed under:
Matz on Sports
.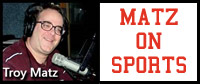 Cross Country: Baraboo High School cross country will run in the field today at the Stoughton Invite at 9:30 AM at the High School. Baraboo's boys squad has won the team title in four straight meets including Tuesday's Portage Invite where six T-Bird runners finished in the top ten led by Marek Sokolowski who has been Baraboo's first finisher in each race this year. Barabo's girls squad placed 7th at Portage with Isabel Schmelzer continuing to lead the girls effort individually. River Valley runs in this meet as well today in Stoughton.
Sauk-Prairie and Wisconsin Dells run today in a multi-team event at Platteville. Sauk's last action was at the Hartje Center outside Reedsburg a week ago where Lianna Mack ran away from the field in the girls race with Sauk third in team scoring with Kyle Herbrand turning a strong fourth place boys finish with Sauk fourth in team scoring that day for the large schools. Monica Jaled of Wisconsin Dells had a top five girls finish last Saturday in Reedsburg as her freshman season continues to sparkle with Brian Braun the top finisher for the boys last weekend. 9 AM start time at UW-Platteville today.
Boys Soccer: Tomah at Baraboo today with a 1 PM start time at Beryl Newman Field. Baraboo lost a tight 1-0 decision to De Forest Tuesday ansd that drops Baraboo to 1-2-1 in the conference and 7-6-2 overall and the Thunderbirds are just 1-2-2 in the last five matches with just five goals in that stretch.
Sauk-Prairie plays two boys soccer matches today at the Lodi Quad at the Jayvee level at 9 AM but the Varsity event has been canceled. Sauk is just 1-3-1 in the last five matches after a 10-1 start including a 3-1 loss to Middleton Thursday in a match not on the original schedule.
Girls Volleyball: Reedsburg hosts a ten-team Invite today at RAHS with play beginning at 9 AM. The field will be broken down into three pools with Reedsburg, Fort Atkinson and La Farge in Pool C, Oregon, Sparta and Hillsboro in Pool B with Madison West, Cuba City, Fall River and Weston comprising Pool A. The top teams from each pool move onto the Gold bracket later in the day with the other teams playing later in the Silver bracket. Reedsburg looks to rebound from a 3-0 loss to Waunakee Thursday but the Beavers did win the Baraboo Invite title two weeks ago. Hillsboro is strong again in the Scenic Bluffs Conference while Weston is still looking for their first dual match win.
Sauk-Prairie will be one of the schools at the Lodi Volleyball Invite with play beginning at 9 AM. The Eagles lost 3-0 to De Forest Thursday and this will be their fifth tournament with sub-.500 records in all of the previous events.
Girls Swimming: Sauk-Prairie competes at the Fond Du Lac Invite today with a start time of 10 AM. Sauk has split four duals overall and this will be the fourth Invite or Relays event. Jordan Evans, Sarah Ertmer and Darcy Kohn all have won two or more individual events at least once for the Sauk-Prairie program this season.
Dells Ducks Junior Hockey is home this weekend for games against Maple Grove in the Minnesota Division of the MNJHL at Poppy Waterman Arena in the Dells. The Ducks won two of two at Maple Grove last month and took last weekend off and the Ducks are actually off to a 6-0 start entering the weekend including wins in the League's Showcase event a few weeks back. Face-off is 7 PM Saturday night at Poppy Waterman and 1:30 PM Sunday with the weekend series actually getting underway last night.
After an off week, the local entry in the Wisconsin State Football League, the Tri-City Bulldogs, return to action in Two Rivers at Walsh Field to face the Manitowoc County Mariners in a 4 PM kick-off. The Bulldogs are 1-7 with a lone victory over Kettle Moraine and the Mariners are 6-2 including a 48-0 win over the Bulldogs in week six.