by Matz ~ October 5th, 2013. Filed under:
Matz on Sports
.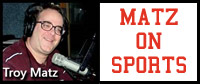 Badger North
Waunakee 31-6 over Baraboo-Baraboo likely sees any playoff hopes they had go by the boards with the loss which puts them at 1-3 in the conference and even if they upset De Forest and defeat Sauk-Prairie in the last two weeks, a 3-3 league record would make them playoff eligible but at 3-6 overall, they would likely not sneak into the field. Troy Laufenberg scored on two TD runs of nine yards each to put Waunakee up 14-0 midway through the second period but Baraboo closed the gap to 14-6 in the final 70 seconds on a Brandon Ennis 8-yard TD run which was set up by Matt Bruch's 33-yard run on a fake punt and a Waunakee personal foul. Waunakee though moved quickly on a drive in the final minute and got a 32-yard Luke Russell FG to put the Warriors up 17-6 at the half and they controlled the second half as well as the Baraboo offense could not get anything going. Touchdowns runs from Laufenberg and Sam Musso closed out the scoring and Waunakee wins 31-6 to go 2-2 in the conference and 4-3 overall and if they can defeat Portage next week, they should once again make the playoffs with two non-conference wins aiding their cause. Laufenberg finished the night with 128 yards rushing to highlight a 259-yard rushing efort for the team while Baraboo was held to just over 100 yards on the ground and through the air with QB Tony Spink who was also picked off twice. Baraboo is 1-6 overall and will welcome in De Forest for the Homecoming game next week.
De Forest 54 Sauk-Prairie 15-Sauk falls to 1-4 in the conference and out of playoff contention with the loss while De Forest stays in the Badger North title hunt at 3-1 in league play and 6-1 overall. It was a close game after one quarter with De Forest up 7-0 but the Norskies scored four times in the second period to go up 35-8 at the break. Lucas Miller ran for three of those five first half TD's with two of them from beyond 40 yards out and QB Brendan Lapp had a TD pass as well. Eagles QB Paul Zech threw a 35-yard TD pass to Jackson Breunig in the first half and Zech ran for a TD as well in the fourth quarter but it was far too little too late with De Forest tacking on three more second half scores. Lucas Miller rushes for 230 yards with the Norskies over 330 for the night on the ground and they had over 460 yards of total offense. Sauk was held to just 75 yards rushing with Zech just 5-15 passing but for 133 yards and the one TD. The Eagles are now 1-4 in the conference and 2-5 overall with Madison Edgewood at Sauk next week in the final non-conference game.
Mount Horeb-Barnevled 42-0 over Portage-The Warriors are shutout for the second week in a row and they had only 77 yards of total offense, just three first downs and six turnovers as Portage remains winless for the season. The Vikings built a 28-0 halftime lead with Max Meylor throwing two TD passes and he also caught a TD pass from Nathaniel Osterloo and Wyatt Thompson adeed three TD runs, two of them in the second half with the Vikings now 4-1 in conference to clinch a playoff berth with an overall record of 6-1. Meylor finished the night with 202 yards passing and first place will be on the line in Badger North when they play at Reedsburg next week.
Non-Conference
Reedsburg 48 Milton 19-Reedsburg ran for 410 yards and got three rushing TD's apiece from Lucas Muchow and Dylan Peterson in the team's most dominating offensive performance this season. The Beavers were up 28-6 at the half with Muchow and Peterson each with two scoring runs including a 73-yarder for Muchow and a 43-yarder from Peterson. Milton did close the gap to 34-19 in the third period but a 47-yard Payton Sterkowitz interception return for touchdown and Dylan Peterson's 95-yard TD run in the final period sealed the win for the Beavers who are 6-1 overall with a six-game win streak. Milton is now 2-5 for the season. Peterson at 175 yards and Muchow at 111 both go over 100 yards rushing for the Beavers who attempted only three passes and Milton ran for nearly 400 yards themselves with Matt Snell going for 201 yards and two TD's but the Red Hawks turned the ball over four times. Reedsburg hosts Mount Horeb-Barneveld next week and will likely win their first ever outright Badger North title if they can win that game.
South-Central Conference
Wisconsin Dells 21 Mauston 20-Dells overcomes a sluggish start to squeak past the Golden Eagles in their Homecoming game with Dells now 2-1 in the SCC and 5-2 overall. The Chiefs fell behind 14-0 and closed the gap to 14-7 by halftime on PJ Flock's two-yard TD run. QB Nate Scott's 19-yard TD run in the third period tied the score but Mauston went back ahead in the first minute of the final period but the two-point conversion failed. Scott scored what proved to be the game-winning TD less than two minutes later on a 70-yard TD run and Everett Menore made it 3×3 on PAT kicks to give Dells a 21-20 win. Scott runs for 209 yards to lead the Chiefs with Pat Cauley gaining 143 yards himself with two TD's for Mauston, now 0-3 in the SCC and 2-5 overall. Dells is 2-1 in the SCC and 5-2 overall and if they can win next week over Wautoma or the following week vs Nekoosa, they're in the playoffs and if they win both, they'll earn a share of the league title.
Nekoosa 34 Wautoma 13 as Nekoosa takes over sole posession of first place at 3-o in the conference and 6-1 overall. Wautoma is 2-1 in the South-Central.
Westfield 42-0 over Adams-Friendship to go 2-1 in the conference with Adams 0-3 in the South-Central.
Southwest Wisconsin Conference
River Valley 42 Richland Center 0-River Valley has outscored the Hornets 96-0 in two conference wins and the win puts River Valley at 5-1 in the conference and officially into the playoffs with Richland Center 1-4 in the SWC.
Scenic Bluffs Conference
New Lisbon 16 Hillsboro 14-New Lisbon stays in first place at 5-0 in league play with Hillsboro now 2-3 and the Tigers must beat Brookwood and Wonewoc-Center to get into the post-season
Brookwood 21 Royall 0-Brookwood clinches a playoff berth as they improve to 4-1 in the conference while Royall slips to 2-3 in the Scenic Bluffs
Necedah 44 Wonewoc-Center 22 as Wonewoc remains winless and the win puts Necedah at 3-2 in league play.
Cashton 20 Bangor 16-Cashton's upset win keeps them in the playoff picture for another week at 2-3 while Bangor, the defending league champs, fall to 2-3 and must win their final two to sneak into the post-season.
Ridge and Valley Conference
Weston at Ithaca Saturday at 1: 30 PM. Weston is coming off their best showing of the year, a 35-0 win over De Soto as the Silver Eagles ran for over 400 yards with Mark Klang over 200 himself. Weston is 2-1 in the R&V and 5-1 overall and a win today puts them into the playoffs guaranteed. Ithaca is 1-2 in conference and 2-3 overall as they host their Homecoming game on a Saturday afternoon.