by Matz ~ October 4th, 2013. Filed under:
Matz on Sports
.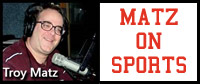 Girls Volleyball: Badger North-Waunakee wins 3-0 at home over Reedsburg to go 5-0 for the conference season as the Beavers fall to 2-3. Waunakee wins 25-15, 25-21 and 25-19 but Lynsey Ragenoski had 10 kills, Brittany Schyvinck 11 digs and Kali Burmester 20 assists for the Beavers and Jill Krysinski had 39 assists for Waunakee. The ten-team Reedsburg Invite is set for tomorrow at RAHS, starting at 9 AM.
De Forest sweeps Sauk-Prairie 3-0 at Sauk to finish 5-1 for the conference dual season as Sauk-Prairie falls to 2-3 in Badger North. De Forest wins 25-18, 25-19 and 25-21 with 18 assists from Alexa Henderson the statistical highlight for the Eagles while Kayla Goth had 14 kills and Arianna Opsahl 19 assists for the Norskies.
Mount Horeb surprsies Portage 3-2 in Badger North volleyball for their first conference win as Portage falls to 2-3. Mt Horeb wins the match 19-25, 25-23, 25-23, 27-29 and 15-11 in a lengthy contest and Caitlin Hibner had 19 kills and Liz Harkins 30 assists in the loss for Portage.
Non-Conference-Baraboo wins on the home floor 3-1 over Milton with Bethani Delmore and Josie Schaefer combining for 33 kills, Jamie Jensen and Kathryn Vander Schaaf had 19 digs apiece and Jensen adds 37 assists for the Thunderbirds. Baraboo wins the match 18-25, 25-22, 26-24 and 25-16 and they have Waunakee next week to wrap up the conference dual match season.
South-Central Conference-Wisconsin Dells is 6-0 in the conference after a 25-12, 25-10 and 25-11 win over Westfield last night. Jaden Ward's 12 kills led the Lady Chiefs in that category with Alex Zapuchlak and Edith Nelson each recording three aces and Zapuchlak adds 21 assists as well as Wisconsin Dells closes in on another conference title.
SWC-River Valley 3-0 over Richland Center
Boys Soccer: Sauk-Prairie made a recent schedule change and they traveled to Middleton Thursday and dropped a 3-1 decision with Sauk now 11-4-1 overall. Middleton led 2-0 at the break and they led 3-0 before Luke Mc Elhenie's goal late averted the shutout for the Eagles who will play two matches at Lodi tomorrow.
Reedsburg improves to 7-8-1 after sloshing their way to a 2-1 win over Mauston at RAHS as Reedsburg ends up 1-2 for the week in three matches.
Wisconsin Dells and Belleville were postponed in their Capitol Conference boys soccer with the make-up on Thursday October 10th which will replace a scheduled non-conference match with Montello.